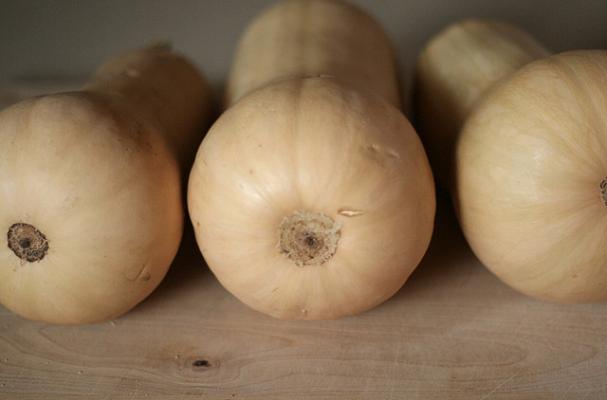 Butternut squash is easily on my list of Favorite Fall Foods. Rich and creamy, lightly sweet and perfect for roasting, toasting, pureeing, sauteeing, grating and -- well, you get the point. Perfect for soup, butternut squash pairs especially well with apples, sage and curry. Depending on your meal, each ingredient highlights a different element of the squash's natural flavor profile. Here are 5 of my favorite (gluten free!) butternut squash soup recipes to share with you and yours - perfect for those cold autumn nights.
Calvados-Laced Butternut Squash Soup with Cinnamon & Bay Leaves
Calvados, an apple brandy, adds a nice kick to this simple soup - destined to warm you inside and out on a cold autumn night.
Curried Roasted Butternut Squash & Apple Soup
Spicy curry powder (not necessarily hot-spicy, just flavorful-spicy), sweet apples and roasted squash make a perfect hearty soup.
Creamy Butternut Squash Soup
Using coconut milk, this 5 ingredient soup is an excellent base or meal all on its own! Dairy free.
Roasted Butternut Squash, Parsnip and Red Pepper Soup
Laced with cumin and a dash of cayenne, this thick and hearty soup is perfect for lunch or dinner. Add toasted pumpkin seeds/pepitas as a garnish for a nice autumnal treat.
Image Sources: