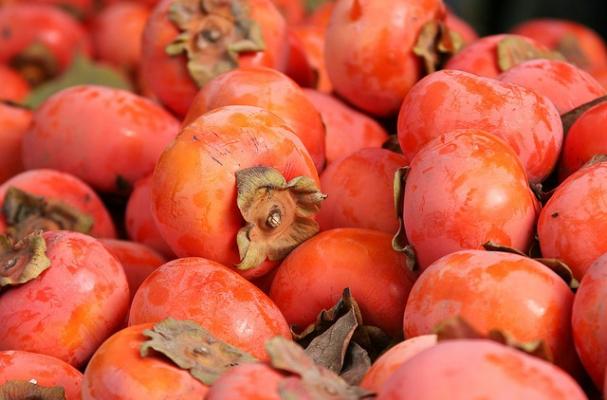 I made this persimmon bread for the first time yesterday. It was moist and slightly sweet with a unmistakable fruity flavor. It's an easy quick bread to bake and makes for a great breakfast. When baking this bread, your home will fill up with the scents of fall. Once hot out of the oven, serve with butter or persimmon preserves.
Persimmon Bread
Two 9-inch Loaves
Adapted from Beard on Bread by James Beard
Featured on David Lebovitz
Ingredients:
3½ cups sifted flour
1½ teaspoons salt
2 teaspoon baking soda
1 teaspoon ground nutmeg
2 to 2½ cups sugar
1 cup melted unsalted butter and cooled to room temperature
4 large eggs, at room temperature, lightly beaten
2/3 cup Cognac, bourbon or whiskey
2 cups persimmon puree (from about 4 squishy-soft Hachiya persimmons)
2 cups walnuts or pecans, toasted and chopped
2 cups raisins, or diced dried fruits (such as apricots, cranberries, or dates)
1. Butter 2 loaf pans. Line the bottoms with a piece of parchment paper or dust with flour and tap out any excess.
2. Preheat oven to 350 degrees.
3. Sift the first 5 dry ingredients in a large mixing bowl.
4. Make a well in the center then stir in the butter, eggs, liquor, persimmon puree then the nuts and raisins.
5. Bake 1 hour or until toothpick inserted into the center comes out clean. Storage: Will keep for about a week, if well-wrapped, at room temperature. The Persimmon Breads take well to being frozen, too.
Image Sources: