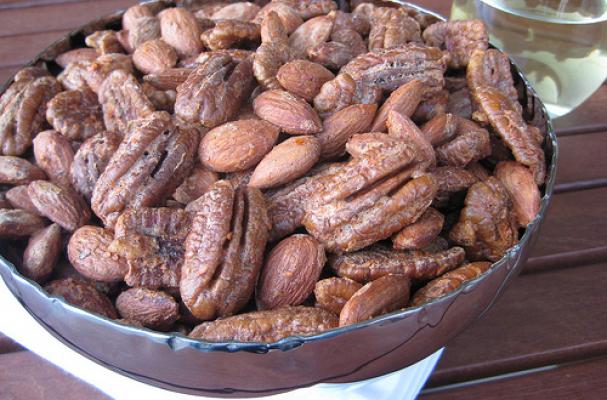 A bag of homemade spiced nuts may be the only treat you will need this holiday season. They are sweet, spicy, crunchy- all the elements you need in a great snack. Make a big batch of these spiced nuts and give them away as gifts. They would also be great served at your annual Christmas party. Whatever the circumstance, you must make a batch of these addicting holiday spiced nuts.
Ingredients:
1 large egg white
1/4 cup granulated sugar
1 teaspoon salt
1/2 teaspoon chili powder
1/4 teaspoon ground allspice
1/2 teaspoon ground cumin
1-3/4 teaspoons cayenne pepper
2-1/2 cups pecan halves or assorted nuts, such as cashews, walnuts or almonds
Directions:
Heat oven to 300 degrees. Beat egg white until soft and foamy. Combine all remaining ingredients except nuts; whisk into egg white. Stir in nuts until well coated; spread mixture in single layer onto an ungreased baking pan.
Bake nuts for 15 minutes, then remove from oven. Using a metal spatula, toss, stir and separate nuts. Reduce oven temperature to 250 degrees and return nuts to bake until medium brown, about 10 minutes.
Remove from oven; toss, and stir again. Place baking pan on wire rack to cool. Break up any nuts that stick together.
Store in an airtight container up to two weeks.
Makes 2-1/2 cups.
Image Sources:
Categories: