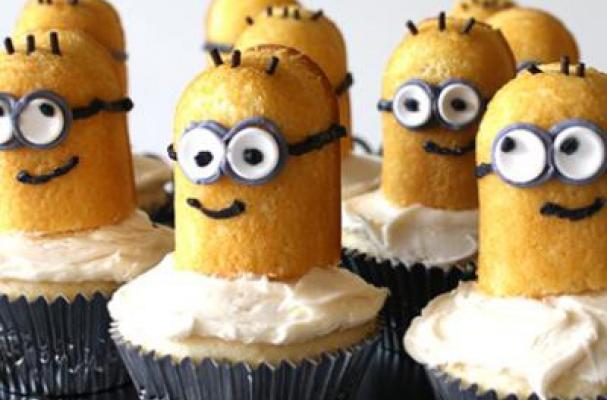 Despicable Me cupcakes from polyvore.com are a villainous treat that are so bad, they're good. The minion characters are recreated in edible form with the use of Twinkies. The cupcakes are vanilla flavored and topped with a buttercream frosting. For a more colorful cupcake, add blue food coloring to resemble the minion's work overalls. Despicable Me cupcakes are the perfect dessert to entertain kids and adults alike.
Despicable Me Cupcakes
Recipe from polyvore.com
Ingredients:
Cake:
1 1/4 cups - flour
1 teaspoon - baking powder
1/8 teaspoon - kosher salt
7 tablespoons - unsalted butter, at room temperature
3/4 cup - sugar
2 - Large eggs
2/3 cup - whole milk
1 teaspoon - vanilla extract
Buttercream Frosting:
1/2 cup - unsalted butter, softened
3 1/2 cups - confectioners' sugar
little less than 1/4 cup - milk
2 tsp. - almond or vanilla extract
Extra Ingredients:
Multiple Food colors
Long rectangular shaped sprinkles
Twinkies
Op. small circular sprinkles
For recipe instructions, click here.
Image Sources: