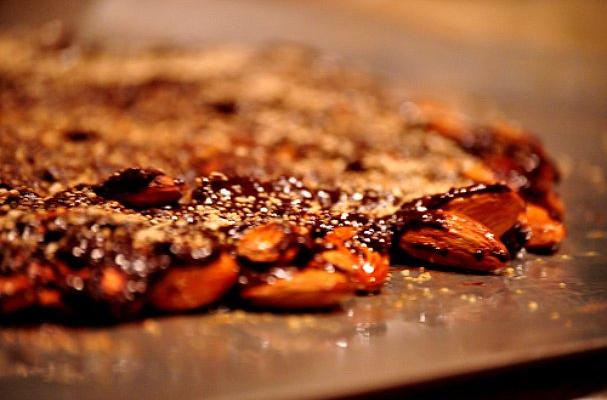 A delicate blend of vegan chocolate, raw cacao, maple sugar, crisp almonds, sea salt and almond milk is all you need to create this intense chocolate experience in your mouth.
This bark isn't like any other bark you've ever tried. Heck, have you even tried a bark before? It's pretty darn good.
How could it not be when its sprinkled with maple sugar? I think we've all learned by now that maple sugar simply makes just about anything better.
At first glance, one may think bark is something that grows on a tree or comes from a dog, but we're talkin' about a whole different kinda bark here.

It's a chocolate bark and it's out-of-this-world.


I promise one bite just won't be enough. So, go ahead and break off a hunk of bark for yourself to nibble on. Believe me, you won't look twice at another boring Valentine's chocolate box after you break off some of this bark and take a bite.

Dark Chocolate Maple Almond Bark
Gluten-Free and Vegan
Makes 3 cups
3 cups dark chocolate vegan chips
1 cup raw cacao nibs
1 cup almond milk
1/4 tsp. sea salt
1 1/2 cups almonds
2 tsp. Shiloh Farms Organic Maple Sugar
Preheat oven to 350 degrees F.
Melt dark chocolate and raw cacao nibs in a small sauce pan over low heat. Add almond milk and sea salt; mix well until combined.
Spray a baking sheet with nonstick baking spray. Lay out almonds in a single layer on baking sheet. Pour hot, melted chocolate mixture on top of almonds. Sprinkle with maple sugar.
Place into the oven for 20 minutes.
Remove from oven; set aside to cool before serving.
Enjoy.