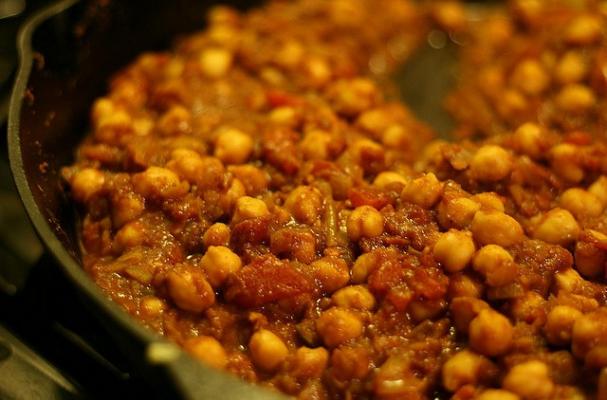 This quick chana masala is Indian food made easy. We are often intimidated by Indian food and think of it as something we eat in a restaurant as opposed to making it at home. In fact, there are many introductory dishes like this chana masala that make Indian food approachable (and it's ready in fifteen minutes). Chickpeas are cooked with tomatoes and onions in a heavily spiced sauce seasoned with garam masala, tumeric, cumin, and coriander. Serve chana masala with some basmati rice and a cool cucumber-mint yogurt sauce. You will be surprised by the intense flavors and overall deliciousness of this dish.
Ingredients:
1 teaspoon cumin seeds
2 teaspoons ground coriander
teaspoon ground tumeric
2 teaspoons ginger, grated finely
Directions:
Rinse garbanzo beans in cold water and drain. In a saucepan, "fry" cumin seeds. Add onions, and fry until they turn brown (.
Lower heat and add coriander, tumeric, garam masala, salt, ginger, and garlic. Mix and cook for 30 seconds, stirring all the time. Add 1 cup water, tomato paste, and pureed tomatoes. Mix and bring to a boil. Add garbanzo beans, lemon juice, and red chili powder. Mix well, cover and cook over medium heat for 15 minutes, or until garbanzo beans are soft. Stir occasionally. If the mixture gets too dry, add a little water. Serve garnished with green chilies, onions, tomatoes or cilantro.
Image Sources:
Categories: