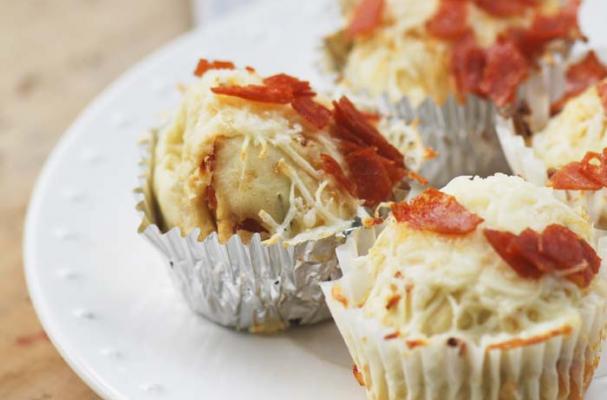 These savory pizza cupcakes from Recipe Diaries will satisfy your comfort food cravings. Fresh pizza-like dough (without the yeast) is mixed with cheese and mini pepperoni before being baked in the oven in muffin tins. Each pizza cupcake is topped with more cheese and pepperoni. This is such a simple recipe and you can play around with various ingredients. For example, substitute the pepperoni for sausage and add olives or spread on some tomato sauce before topping the cupcakes with cheese. Your ingredient possibilities are endless with these savory pizza cupcakes.
Ingredients:
1 1/2 cups all-purpose flour
2 tablespoons white sugar
1/2 teaspoon salt
2 teaspoons baking powder
1/3 cup vegetable oil
1 egg
1/3 cup milk
1 cup mini pepperonis
1 cup shredded mozzarella cheese
Additional 1 cup of mozzarella cheese
1 cup of mini pepperonis for topping
For full recipe instructions, click here.
Image Sources: