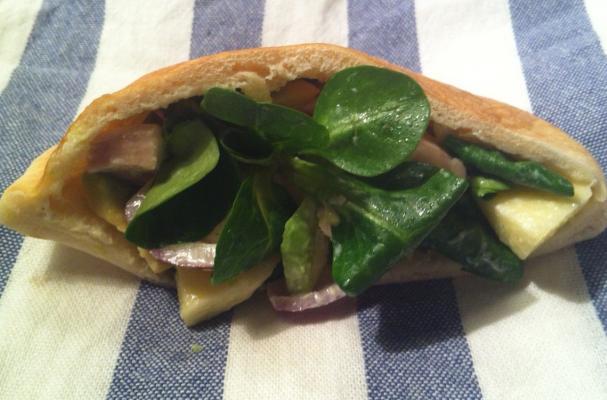 Chicken, avocado, and apple sandwich is a tasty twist on this classic picnic dish. Cubes of chicken breast (a great use for leftovers!) is combined with crisp golden delicious apple, crunchy celery, and creamy avocado. Instead of mayonnaise, this chicken salad is tossed with a yogurt dressing that is flavored with olive oil and lemon juice. Spoon your chicken salad into warm whole wheat pita pockets with lamb's lettuce and thin slices of onion. Chicken, avocado, and apple sandwich is guaranteed to be a picnic lunch that you'll thoroughly enjoy.
Ingredients for 2 sandwiches:
1 chicken breast (around 500 gr)
1 Golden Delicious apple
1 ripe avocado
1 carrot
2 celery sticks
1 white onion
100 gr of lamb's lettuce (or other small leaf lettuce)
1/2 red onion
2 pita breads
a pinch of salt
a pinch of ground black pepper
Ingredients for the dressing:
3 tbsp of olive oil
2 tbsp of natural yogurt
2 tsp of lemon juice
a pinch of salt
a pinch of freshly ground black pepper
Directions:
In a small casserole put the celery sticks (washed and cut in big pieces), the carrot (peeled and cut in big pieces) and the white onion (peeled). Add 2 l of cold water, and put the casserole on the stove at high heat. When the water in boiling add the whole chicken breast, season with salt and pepper, and cook it for 30 mins at low heat covered with a lid.
Then remove the chicken breast from the water and with a knife make a cut in the middle of the meat and check if it is cooked. If in the middle it is still pink, cook it for 10 mins more.
When the chicken breast is ready take it from the casserole, dry it, and let it cool. Cut it into small cubes (2-3 cm) and set it aside.
Wash the lamb's lettuce and put it in a large bowl. Peel and cut in small pieces the avocado and the apple. Peel the red onion and chop it into slices. Separate the slices into rings. Add the apple, the avocado, the chicken and the onion into the salad bowl.
In a small bowl whisk together the ingredients for the dressing.
Pour the dressing onto the chicken salad and serve with the warm pita bread. One more idea: serve the salad inside the pita bread.
Image Sources:
Categories: