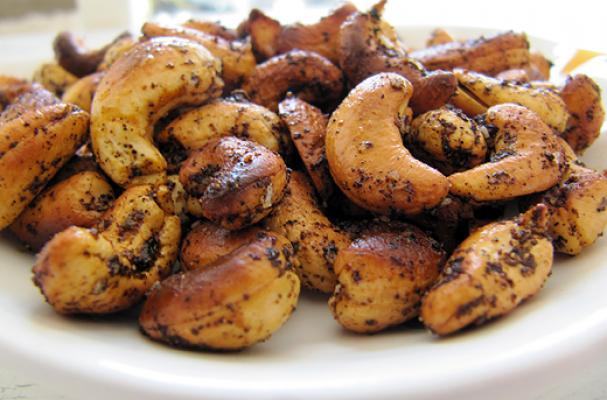 These lime spiced cashews from Home Skillet are an addicting snack. These nuts are roasted with a ton of aromatic spices liked smoked paprika, onion powder, and oregano. If you are not a fan of cashews, this same recipe can be made with any nut like almonds or peanuts. Lime spiced cashews are great party food and are absolutely delicious with an ice cold beer.
Ingredients:
5 ounces plain, unsalted cashews
2 tablespoons butter
½ teaspoon liquid smoke
1 ½ tablespoons Spice Mix
¼ teaspoon kosher salt
2 limes, cut into wedges
Spice Mix:
1 teaspoon brown sugar
1 teaspoon smoked paprika
2 teaspoons paprika
2 teaspoons kosher salt
1 teaspoon onion powder
1 teaspoon garlic powder
1 teaspoon cayenne
¾ teaspoon white pepper
1 teaspoon freshly ground black pepper
½ teaspoon ground thyme
½ teaspoon oregano
Preparation:
In a small bowl, mix the brown sugar and spices together. In a large sauté pan, melt butter over medium heat. Add the cashews, ½ teaspoon liquid smoke, and 1 ½ tablespoons spice mix. Sauté for about 3-4 minutes, until cashews turn golden brown. Take off heat, and sprinkle another ¼ teaspoon kosher salt on the cashews. When cashews have cooled, squeeze fresh lime juice over the spiced nuts. Remaining spice mix can be saved for another time.
Image Sources:
Categories: