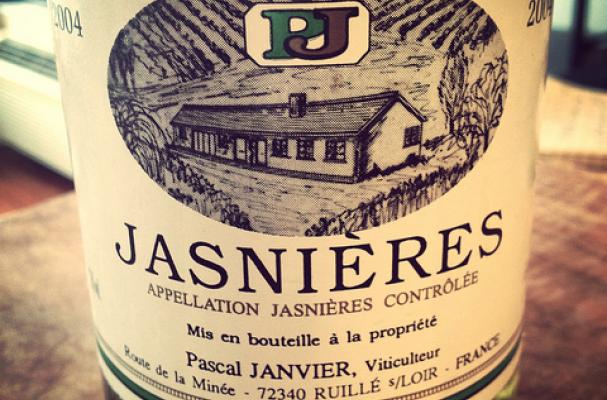 It's time to admit that after many years and many bottles, I'm still trying to figure out aged white wine. Matt Kramer's recent post on Wine Spectator ("Is It Worth It to Age Wines Anymore?") opened the floodgates for me to make this confession regarding (specifically) aged dry white wine. If we were talking about a great Riesling or an exceptionally sweet wine, I say sock 'em away for decades! But otherwise I've had a lot of mixed experience with aged white wines. And it has to do with personal preference. I like freshness and panache in my white wines; with age, they can take on a golden color (nice) and some flavors that I find to be a little mushroom-y and/or funky (not so nice).
Fortunately I had a pleasant experience with a modest bottle of wine from France's Loire Valley. It's from the region of Jasnières, where the wines are composed of Chenin Blanc. I bought this bottle a few years ago for under $20 (in Seattle) and thought I'd forget about it for a while. Upon walking it from its slumber, the 2004 Pascal Janvier Jasnières had acquired some extra richness and color, but still had a nice refreshing finish. It wasn't the oldest of dry white wines, but, closing on a decade of age, showed like a real sleeper of my cellar.* Which left me feeling less frustrated. A wine that pleasantly surprises can have that effect.
With the remaining bottles in my cellar, I'm planning on being less of a gambler. And more of a drinker.
*My cellar is a bunch of cardboard boxes in a in a basement storage room, precariously strewn around ski equipment and other random items.
Categories: