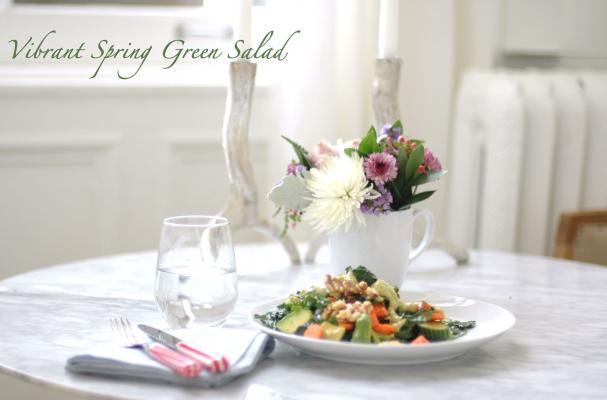 I've been making variations of this particular raw salad for my husband and myself all week. It's bursting with delicate ribbons of kale and collard greens drenched in a nutrient-rich avocado vinaigrette. Crunchy cucumber rounds and sweet carrots add a healthy crunch while a generous serving of sliced snow peas add a sweet touch of spring. I like to top this salad with a handful of walnuts for a little extra protein for a quick and light raw dinner.
Vibrant Spring Green Salad
Vibrant salads made with dark leafy greens, of course, are a simple and effective way to boost your nutrient intake and improve your energy levels. Eating raw leafy green salads also helps boost your circulation and is a favorite way health beauties here in New York look to shed pale winter skin.
Serving Size: 2 (~530 calories per serving, with the avocado vinaigrette)
Ingredients
for the salad

1/2 bunch Tuscan kale

3 collard greens

2 medium carrots, trimmed, roughly chopped

1 small seedless cucumber (~1/2 cup), trimmed

2 cups snow peas, trimmed, roughly chopped

1/4 cup walnuts

1/2 avocado, peeled, pitted and cubed

1 tablespoon extra-virgin olive oil

Sea salt and pepper
for the dressing

1/2 avocado, pitted and peeled
1/4 cup extra-virgin olive oil
juice from 2 lemons*
1/4 teaspoon sea salt and pepper, to taste
1/4 teaspoon oregano, dried
2 fresh dates, pitted*
(* Buy organic, if possible. Learn more here.)
Better-for-you ingredients
Learn more about the better-for-you ingredients in this recipe:
Kale – Kale is a nutritional superstar and a health beauty favorite in our quest for radiant skin. It is full of antioxidant and anti-inflammatory benefits that help your body to stay vibrant and youthful.
Avocado – High quality raw fats, like avocados, are believed to help your body better absorb certain nutrients. One nutrient is lycopene, which is estimated to help prevent heart disease and prostate cancer. Health beauties also embrace avocados as an anti-aging food given certain sugars in avocados have been shown to improve collagen formation. 

Directions
First prepare the salad dressing. Place all ingredients into a food processor. Process until smooth and creamy. Set aside.
To prepare the salad, start with the kale. Remove the stems and slice the kale leaves into long, thin ribbons by working a chef's knife evenly back and forth across the kale. Set aside. Prepare the collard leaves the same way. (New to raw kale and collards in a salad? Head over here for a little more visual love!)
Toss kale and collard ribbons into a bowl. Drizzle with one tablespoon of olive oil, and using your hands, rub the olive oil into the kale and collard leaves; Make sure all the salad ribbons are well coated. Toss with a dash of salt and pepper. Fold in salad dressing. Toss well.
Add carrots, cucumber, snow peas and avocado to the salad bowl. Toss. Top with walnuts and serve!
More
You might also appreciate these light and yummy salads.
Categories: