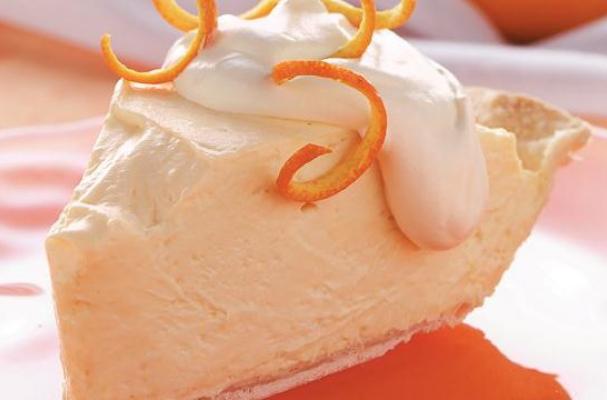 Orange cheesecake pie is a rich ad creamy dessert that everyone will love. If you are a fan of the creamsicle then you'll love this pie. The strong orange flavor is balanced with cream cheese and whipped topping. This orange cheesecake pie can also be transformed into miniature desserts by using a muffin tin instead of one pie pan.
Orange Cheesecake Pie
Recipe Courtesy of Pillsbury
Ingredients:
1 box Pillsbury® refrigerated pie crusts, softened as directed on box
1 teaspoon sugar
12 oz (from two 8-oz packages) cream cheese with 1/3 less fat (Neufchâtel), softened
2 containers (6 oz each) Yoplait® Original 99% Fat Free mandarin orange yogurt
¼ cup powdered sugar
1 (6 oz) frozen orange juice concentrate, thawed
1 box (4-serving size) cheesecake-flavor instant pudding and pie filling mix
1 container (8 oz) frozen reduced-fat whipped topping, thawed
Directions:
Heat oven to 450°F. Remove 1 pie crust from pouch; unroll crust on work surface. Sprinkle with sugar. With rolling pin, roll sugar into crust. Place crust in ungreased 9-inch glass pie plate. Fold edges under; flute. Prick bottom and sides generously with fork.
Bake 9 to 11 minutes or until lightly browned. Cool completely, about 20 minutes.
In large bowl, beat cream cheese, yogurt and powdered sugar with electric mixer on medium speed about 3 minutes or until light and fluffy. Add orange juice concentrate; beat until well blended. Sprinkle pie filling mix over top; mix well.
Reserve 1 cup of the whipped topping for garnish. Fold remaining whipped topping into cream cheese mixture until well blended.
Spread orange filling in cooled baked shell. Refrigerate at least 1 hour until filling is set. Garnish with reserved whipped topping and, if desired, orange peel.
Image Sources: