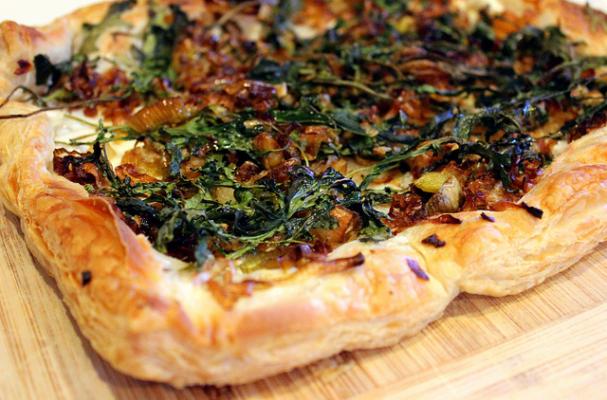 Following a plant-based diet doesn't mean you have to give up cheesy comforting foods like pizza! Try our crazy good vegan pizza recipe this meatless Monday.
Vegan Caramelized Leek and Arugula Pizza
Makes 1 pizza
1 sheet vegan puff pastry
2 leeks, white parts thinly sliced
1 tablespoon olive oil
1 sheet vegan puff pastry
Tofutti cream cheese
Lisanatti Foods garlic herb almond cheese (or your favorite vegan cheese), grated
Arugula
Preheat oven to 400° F.
Remove one sheet of puff pastry from freezer and set on counter to thaw, about 35 minutes.
Heat olive oil in a large sauté pan over medium heat. Add sliced leeks and cook, stirring frequently to prevent from burning, until richly browned; about 35 minutes.
Once pastry has thawed, gently unfold and slightly stretch out. Carefully spread a thin layer of cream cheese on top, then add grated cheese (as much as you'd like!).
Add caramelized leeks and top with a healthy amount of arugula.
Place directly on oven rack and bake for 10-15 minutes or until nicely browned.