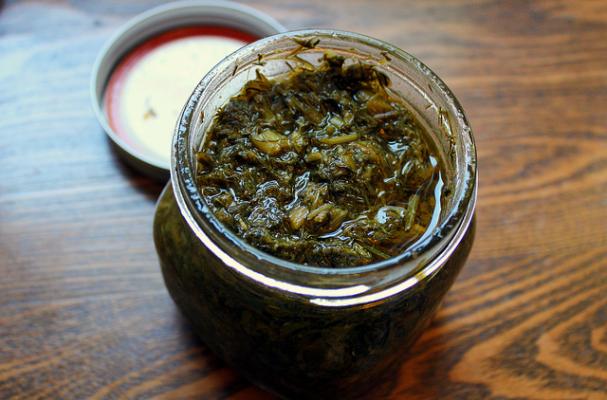 Turn those all-too-often composted veggie tops into a delicious and healthy spread! When unwanted herb stems and vegetable tops are "stewed" with a simple combination of olive oil and garlic, the flavors of these often discarded greens burst with luscious earthy flavor. Serve this savory compote alongside a simple homemade hummus with flatbread, or as a side with grains or lentils. The herb and veggie combinations are endless.
Vegetable Top Compote (aka Herb Jam)
1 bunch carrot tops
1 bunch fennel tops
1 bunch dill
1 bunch (about 8) garlic scapes
3 cloves garlic
1/2 cup olive oil (or more if necessary)
Salt and pepper to taste
Steam tops, herbs and garlic until tender, about 20 minutes. Let cool, then remove greens and garlic. Separate garlic and mash with a fork until creamy.
Heat oil over medium and add garlic. Let brown slightly (do not allow to burn or the garlic will become too bitter).
Chop greens and add to oil garlic mixture. Cook at a low simmer for about 45 minutes, frequently stirring and mashing with a wooden spoon. Season to taste with sea salt and freshly ground pepper. Remove from heat and let cool to room temperature. Transfer to a food processor and blend until slightly smooth (about the consistency of pesto).
If not eaten immediately, refrigerator in a tightly sealed container. Bring back to room temperature before serving.