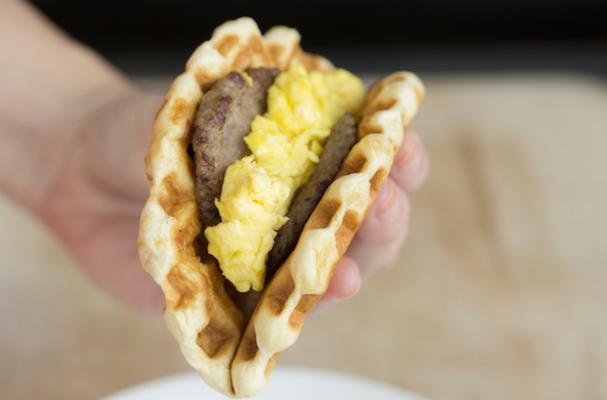 With cronuts becoming more popular than ever, it only make sense that other hybrid foods would start appearing. This waffle taco is one of those foods. Buttermilk biscuit dough is pressed into a waffle maker and filled with your favorite breakfast foods. This could include sausage and eggs, chorizo and eggs, or even sweetened ricotta cheese and berries.
Waffle Tacos
Recipe Courtesy of Pillsbury
Ingredients:

1 tablespoon butter
4 eggs
2 tablespoons milk
1/4 teaspoon salt
1 package (12 oz) uncooked pork sausage patties (8 patties)
1 can (16.3 oz) Pillsbury® Grands!® buttermilk biscuits
Directions:
1. In 8- to 10-inch nonstick skillet, melt butter over medium-high heat. In medium bowl, beat eggs, milk and salt with whisk. Add to skillet. Cook 2 to 3 minutes, stirring frequently, until eggs are cooked through. Cover to keep warm.
2. Press each sausage patty to form 3-inch round. In 10-inch nonstick skillet, cook half of the patties at a time over medium-high heat about 2 minutes on each side or until cooked through. Cover to keep warm.
3. Spray waffle maker with cooking spray. Heat waffle maker. Separate dough into 8 biscuits. Press each biscuit to form 5-inch round. Place 1 biscuit at a time on waffle maker. Close lid of waffle maker; cook about 2 minutes or until golden brown.
4. Fold each warm waffle into taco shape; fill each waffle taco with 1 sausage patty and scrambled eggs.
Image Sources: