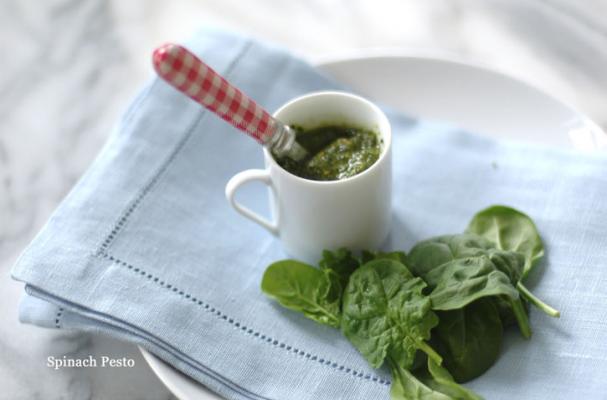 Do you ever open your fridge looking for a little something extra to twirl into soups or spread on toast? I have been having a few moments like that over the past few weeks and so after giving it a little thought I realized a pesto was in order. What I love about this particular spinach pesto is that it's thick and nutty rather than being thin and oily and it really stands up well in soups – which I've been having a lot of recently. I also love this simple pesto recipe because it often enables me to add a little zing to an otherwise bland pasta dish for my little one.
Spinach Pesto
Serving Size: 1 cup
Ingredients
2 cups spinach, packed
2 full sprigs basil, leaves and stems
1/4 cup walnuts
1/2 cup Parmesan cheese (freshly grated, if possible)
1/4 cup extra virgin olive oil + some to drizzle
1/4 avocado, pitted and peeled
1 scallion, trimmed, roughly chopped
Sea salt, pepper
Better-for-you ingredients
Learn more about the better-for-you ingredients in this recipe:
Spinach – Spinach is rich in vitamin K, which is essential for blood clotting and strong, healthy bones. Health beauties also love that it is rich in chlorophyll, a natural detox agent, which helps purify (and build) healthy blood and a vibrant body.
Directions
Place spinach, basil, walnuts, scallion and olive oil into a food processor and pulse until coarsely chopped. Add Parmesan cheese and avocado and pulse until just combined. Season with salt and pepper.
Enjoy the pesto immediately. Or if you prefer, make extra and store it in the refrigerator or freezer with a thin layer of olive oil on top.
Grab More
Craving more pesto recipes to spread on sandwiches and toss with vegetables? Give this Parsley Pesto a try! I love this recipe because it's such a great way to enjoy beautiful bunches of parsley that you may otherwise be struggling to use up!
Categories: