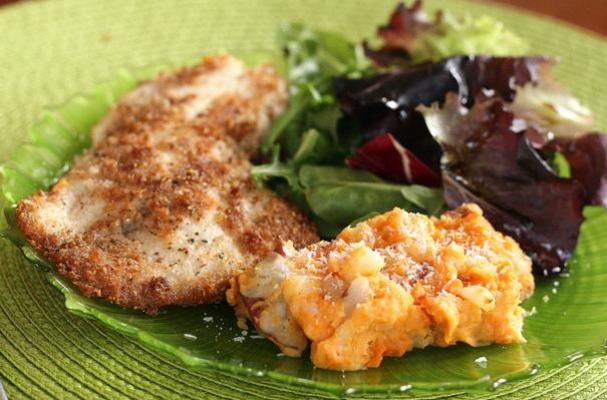 Tilapia is an inexpensive and wonderfully versatile fish found in nearly every supermarket. This delicious and easy tilapia recipe from Perry's Plate features a flaky and golden coconut-almond crust. It takes only minutes to make and the whole family will love it! Serve it with her tasty Tropical Sweets and Red Potato Mash, a blend of sweet and red potatoes with coconut milk and butter. Yum!
Coconut-Almond Crusted Tilapia with Tropical Sweets and Reds Mash
Submitted to Foodista by Perry's Plate
4 tilapia fillets (or any other firm, white fish, such as cod)
1 lemon, sliced in half
1/4 cup coconut milk
1/2 cup almond meal, ground almonds, or almond flour
1/2 cup finely shredded unsweetened coconut
1/4 teaspoon salt
1/8 teaspoon black pepper
1/2 teaspoon ground ginger
1/2 teaspoon dried mint
oil for frying (coconut oil is recommended)
Pat and dry fish filets. Sprinkle both sides with a pinch or two of salt and pepper. Squirt juice from 1/2 of the lemon and drizzle the coconut milk over top. Turn to ensure everything is coated well. Let them sit at room temperature for 15 minutes to marinate.
Meanwhile prepare the breading by combining the almond meal, shredded coconut, salt, pepper, ginger and mint in a shallow bowl.
Cover the bottom of a large skillet with oil and bring to medium heat. Lay filets carefully in the skillet and cook, flipping fish halfway through cooking, until both sides are golden brown and fish flakes easily with a fork. Three to five minutes per side for thin filets, longer if they're thicker.
Transfer to a stack of paper towels to drain and cool slightly.
Tropical Sweets and Reds Mash
1 medium to large sweet potato (about 1 lb)
4 red potatoes (about 1 lb)
3 tablespoons butter, softened
1/2 cup coconut milk
salt and pepper to taste
Peel and cut all the potatoes into 1-inch chunks. Bring a large pot of water to boil, add the potatoes, and cook for about 15 minutes or until the potatoes are fork tender. Drain the water and return potatoes to the pot over medium-low heat. Stir the potatoes around, letting the small amount of water sizzle away, about 30 seconds.
Remove from heat and add butter and coconut milk to the potatoes. Mash, using a potato masher or a large fork, adding salt and pepper to suit your taste. Transfer to a small bowl to serve.