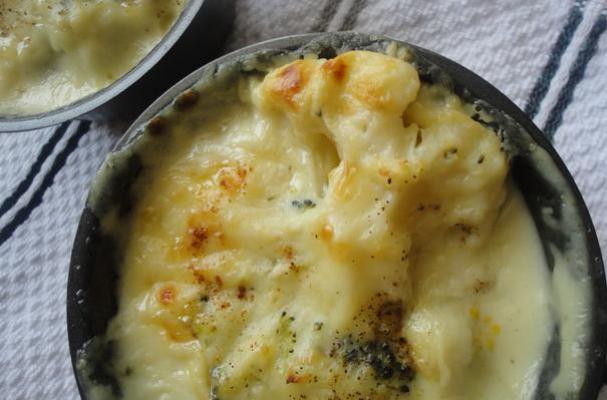 Every holiday table needs a scrumptious vegetable side dish. This creamy delicious cauliflower and broccoli gratin is sure to be a crowd-pleaser! This tasty gratin recipe The Coffee Break from is a must-make!
Cauliflower and Broccoli Gratin With Camembert Cheese
Submitted to Foodista by The Coffee Break
200 grams (2 cups) broccoli
200 grams (2 cups) cauliflower
30 grams (2 tablespoons) butter
3 tablespoons of flour
250 ml (1 cup plus a dash more) milk
50 grams (~2 ounces) Camembert cheese cut cubes plus extra to put on top
50 grams (1/3 cup) breadcrumbs
Salt, pepper to taste
Preheat oven to 180 degrees C (350 F).
Parboil broccoli and cauliflower just until tender, about 10-15 minutes.
Heat up saucepan and melt butter; stir in flour then milk; add cheese and stir until all melted; season with salt and pepper.
Combine sauce with veggies and transfer to a baking dish; top with extra cheese and breadcrumbs.
Bake for 20 minutes or until browned on top.