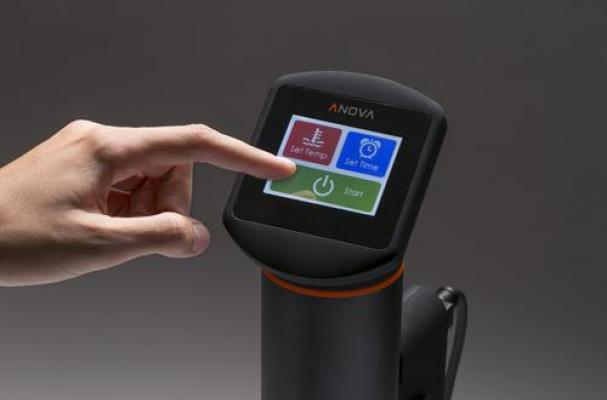 I...am...so..excited..about..Thanksgiving!! Even more than usual...why? Two words: Sous Vide! Never heard of it? Here's a great primer.
Until recently, this technique required expensive equipment costing over $1,000, but a new generation of equipment has dropped that price to as little as $199 for a full featured device.
The team at Anova Culinary recently sent us one of their units to review and I've been itching to try it out in preparation for Thanksgiving.
As a test, I cooked a couple of turkey legs sous vide earlier this week. To keep things simple, I didn't brine or even season the drumsticks, but just wanted to see how they would come out if I kept things basic. So I sealed with my FoodSaver Vacuum Sealer
with a couple tablespoons of olive oil and put it into a pot with the Anova. The unit's touchscreen has very simple and intuitive controls that made it easy to set the temp to 160 degrees Fahrenheit and the timer to 9 hours. I set it in the morning and headed off to work. When I got home, I was surprised to find the the turkey legs had cooked nicely in the bag and had actually browned a bit, I expected more of a poached anemic look in the skin. I drained the juice off into a pot to make gravy and placed the legs on a roasting rack. While the legs baked in our convection oven at 450 degrees, I made a wonderful simple gravy with a bit of white wine and some flour. Since the cartilage and connective tissue had dissolved into the broth the gravy had that wonderful lip-coating unctuousness that you get in demi-glas, with a hearty turkeyness (is that a word?)! After 20 minutes we served the drumsticks and I have to say they were the best I've ever had. The skin was crispy and the meat was absolutely fork tender.
Next Wednesday, I plan to seal up the dark meat parts and cook up some stupendous legs, thighs and wings overnight. I will brine the the breasts, which need to be cooked at a lower temperature to keep moist, and throw in the water bath a few hours before dinner on Thanksgiving. All of it will be browned in the oven and come out perfectly cooked exactly when we want to serve!