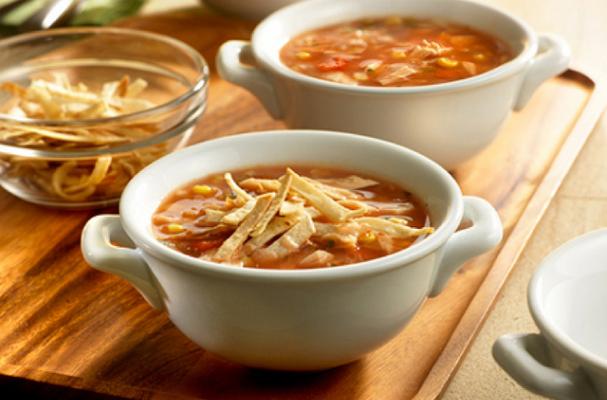 This tasty tortilla soup is the perfect meal to use up some of that leftover turkey. After all the Thanksgiving cooking you did, this easy soup recipe takes only 15 minutes to throw together. Along with turkey and chicken broth, toss in some white rice, corn, a little salsa and garnish with fresh cilantro and lime juice for a soup that will please the whole family.
Hearty Turkey Tortilla Soup
Courtesy of Campbell's Kitchen
Serves 4
3 1/2 cups Swanson® Chicken Broth (Regular, Natural Goodness® or Certified Organic)
1/2 cup uncooked regular long-grain white rice
1 teaspoon ground cumin
2 cups shredded or cubed cooked turkey
1 can (about 11 ounces) whole kernel corn with red and green peppers, drained
1 cup Pace® Picante Sauce
1 tablespoon chopped fresh cilantro leaves
2 tablespoons lime juice
2 corn tortillas, cut in half
Vegetable cooking spray
Heat the broth, rice and cumin in a 4-quart saucepan over medium-high heat to a boil. Reduce the heat to low. Cover and cook for 20 minutes.
Stir the turkey, corn, picante sauce, cilantro and lime juice in the saucepan and cook until the rice is tender.
Heat the oven to 425°F. Cut the tortilla halves into thin strips. Place the tortilla strips onto a baking sheet. Spray with the cooking spray.
Bake for 10 minutes or until the tortilla strips are golden brown. Top the soup with the tortilla strips.