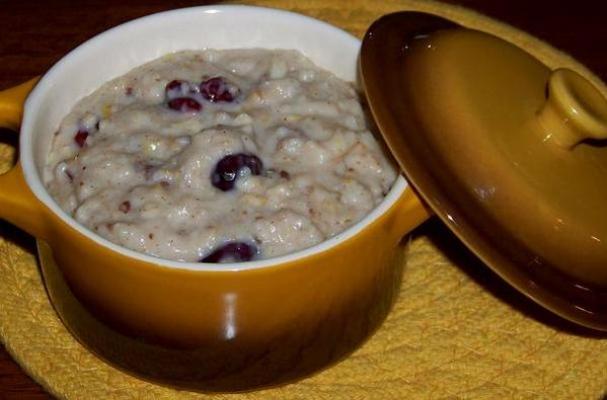 The holiday season always requires a nutritious, filling yet not-too-heavy breakfast to keep us fueled through family visits and shopping sprees. I don't know about you, but I always reach for a big bowl of oatmeal, and this creamy holiday oatmeal is perfect. Cooked with apple, walnut for protein, dried cranberries and warming spices, this oatmeal is good for your mind and your body!
Colorful and Creamy Holiday Oatmeal
Submitted by Mother Rimmy's Cooking Light Done Right
Ingredients:
2 cups oatmeal
2 cups water
2 cups non-fat milk
1 large apple, shredded with skin
2 tablespoons flax seed meal
1/2 cup walnuts, chopped
1/2 cup dried cranberries
1 teaspoon cinnamon
pinch nutmeg
Toast walnuts in oven at 350 for 5 minutes.
Combine remaining ingredients (except toasted walnuts) in a large saucepan, and cook over medium-low heat for 20 minutes until apple is tender.
Add walnuts.
Sweeten to your taste with your favorite sweetener.
Image Sources: