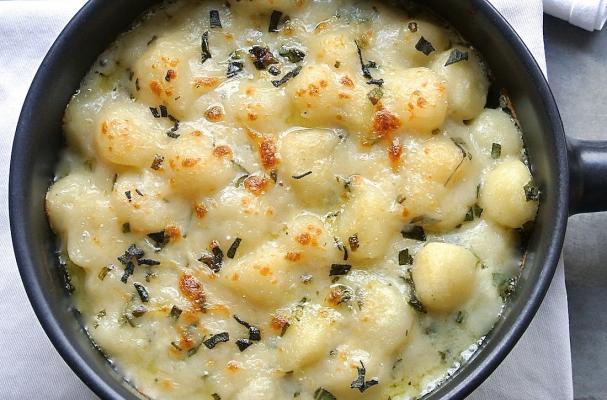 What's more comforting than a satisfying meal of tender potato dumplings smothered in two scrumptious cheeses? Culinary Ginger's handmade potato gnocchi are light and fluffy with just a hint of aromatic sage. It's a creamy, cheesy dish that's simply heaven on a plate!
Baked Gnocchi with Sage and Cheese
Submitted to Foodista by Culinary Ginger
For the gnocchi:
2 pounds Yukon gold potatoes, cut into large pieces
1 1/2 cups all purpose flour
2 teaspoons salt
For the cheese sauce:
4 tablespoons unsalted butter
4 tablespoons flour
2 cups chicken or vegetable stock, warmed
1 cup Fontina cheese, grated
1 cup Parmesan cheese, grated
6 fresh sage leaves, finely chopped
Small pinch fresh nutmeg
Preheat oven to 350 degrees F.
Fill a large saucepan with water.
Add the potatoes and 1 teaspoon of salt and bring to a boil.
Boil the potatoes until they are very soft.
Drain and set run through a food mill, or ricer for nice smooth potato.
Put the potatoes in the fridge until they are cool, this will help keep them fluffy.
Prepare 2 sheet pans by dusting them with flour, set aside.
On a clean work surface mix together the potato and the flour and knead for about 4-5 minutes until the dough is soft and smooth. Only add enough flour so the dough comes together and is not tacky.
Cut the dough into 4 equal parts. Roll one 1 quarter of the dough into a 3/4 inch log.
Cut the log into 3/4 inch pieces.
Roll the pieces over a gnocchi board or the back of a fork to create ridges onto the floured sheet pan in a single layer.
Repeat with the rest of the dough.
Let the rolled gnocchi dry out for about 1 hour before cooking.
Bring a large saucepan of water to a boil.
Once the water is boiling, turn the heat to a gently boil, so you don't break up the gnocchi.
Add the gnocchi and boil for about 3 minutes, or until they rise to the top.
For the cheese sauce (while the gnocchi is cooking)
In a medium saucepan over medium heat, melt butter.
Whisk in the flour and whisk until flour turns golden brown, about 3 minutes.
Add the warm stock and continue to whisk until it thickens, about 3 minutes.
Add the fontina and parmesan cheese and stir with a spoon until melted.
Stir in the chopped sage.
Stir in the cooked gnocchi and transfer to a casserole or baking dish.
Bake for 15-20 minutes or until the top is golden brown and bubbly.