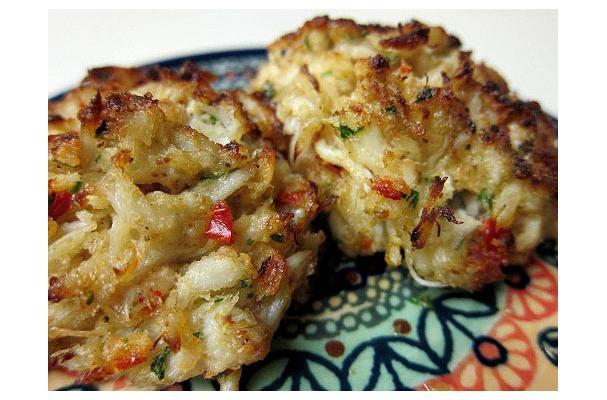 Crab cakes can be enjoyed year-round, especially when quality canned crabmeat can be found. With just a few simple ingredients you can whip up these no-fuss crab cakes in just minutes. Best of all, there's no frying involved! Simply top each cake with a bit of butter and broil them until golden brown. They're excellent atop lightly dressed greens such as arugula for a simple and easy dinner.
Broiled Crab Cakes
Submitted to Foodista by Las Vegas Food Adventures
Serves 2 as a main course
1 pound crabmeat
10 saltine crackers, crushed
2 tablespoons minced fresh Italian parsley
2 tablespoons finely minced peppedew or pimiento peppers
4 tablespoons mayonnaise
1/4 teaspoon Old Bay seasoning
2 teaspoons very soft butter
Place all of the ingredients, except the butter, in a large bowl. With a fork, very gently toss the ingredients together until just blended being careful to avoid breaking up the crabmeat too much.
Gently form into 6 slightly rounded cakes and place on a non-stick baking sheet (non-stick aluminum foil works great here). This can be done up to a day in advance and refrigerated, covered, until ready to cook.
Preheat broiler on it's lowest setting. Gently spread softened butter on each cake and broil until golden brown and hot throughout. Let sit for 5-10 minutes minutes before carefully removing the cakes from the baking sheet with a spatula