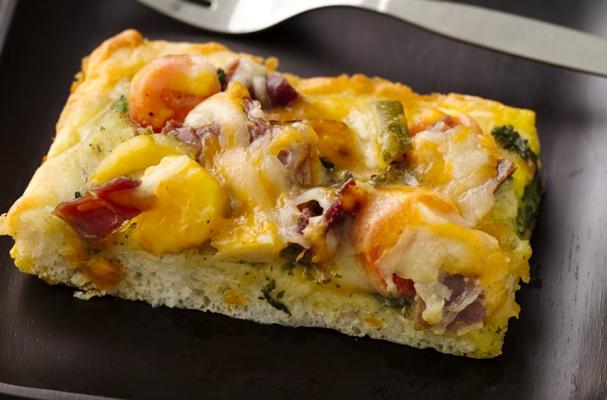 Quick and easy Mediterranean breakfast pizza deserves a spot on your Easter table. Store bought pizza dough is slathered with pesto and topped with prosciutto, kale and vegetables. Before being baked in the oven, whipped eggs and cheese are spread over the top. This breakfast inspired pizza is a definite crowd pleaser.
Mediterranean Breakfast Pizza
1 can Pillsbury® refrigerated classic pizza crust
1 bag (11.8 oz) Green Giant® Seasoned Steamers™ frozen Mediterranean blend
1/2 cup basil pesto
1 cup coarsely chopped fresh kale
4 oz prosciutto, coarsely chopped
2 cups shredded Mexican cheese blend (8 oz)
3 eggs, well beaten
Heat oven to 400°F. Spray bottom and sides of 13x9-inch pan with Crisco® Original No-Stick Cooking Spray. Unroll dough in pan; press dough in bottom and 1/2 inch up sides of pan. Bake 7 minutes.
Meanwhile, microwave frozen vegetables as directed on bag.
Spread pesto evenly on partially baked crust to within 1/2 inch of edges. Top with kale, vegetable blend, prosciutto and 1 cup of the cheese. Pour eggs over cheese; top with remaining 1 cup cheese.
Bake 12 to 17 minutes or until golden brown and eggs are set. Cool 5 minutes on cooling rack.
Editorial disclosure: Foodista was not paid for this post
Image Sources: