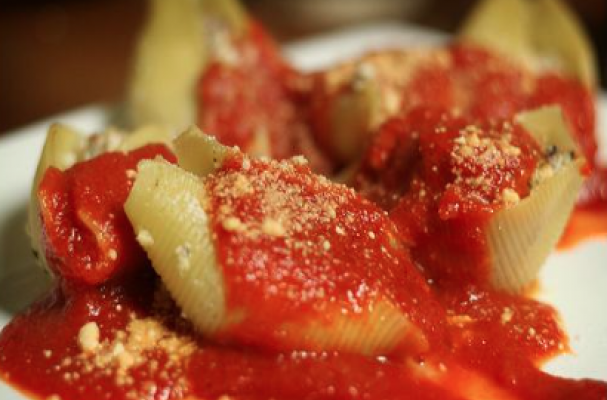 Ricotta stuffed shells are a speedy recipe to help you get dinner on the table in less than thirty minutes. Large pasta shells are filled with a ricotta and prosciutto filling and baked with your favorite tomato sauce. You can customize the filling based on what's available in your pantry. Feel free to substitute prosciutto for ground sausage. For a vegetarian version, leave out the meat and add spinach or broccoli instead.
1 (16 oz.) box lg. shells, cooked
1 pound Ricotta cheese
1/4 cup diced Prosciutto, cooked
1 egg, lightly beaten
2 cups tomato sauce
Preheat oven to 350 degrees. Beat Ricotta, Prosciutto and egg together in a large bowl. Stuff approximately 2 tablespoons of the cheese mixture into each shell and place in a baking pan. Cover with aluminum foil and bake 15 to 20 minutes. Arrange shells on serving plates and pour hot sauce over.
Image Sources: