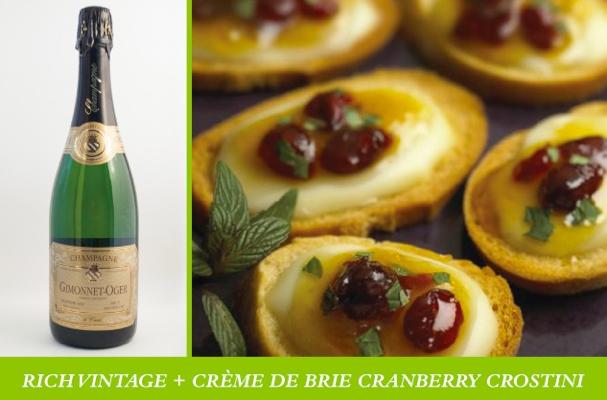 Treat mom right this Mother's Day with an easy and elegant food pairing of creamy brie with sweet topped with a tangy mango-cranberry chutney along with a rich vintage Champagne like a Blanc de Blancs (literally "white to white," meaning a white wine from a white grape). It's not every day that you pop the cork on a fine Champagne and what better way to show Mom how much she's loved and appreciated! We love the Premier Crus from Fat Cork, specifically the 1996 and 1998 vintages from Gimonnet-Oger. Fat Cork is the provider of exclusive Grower Champagne to bubble lovers across the U.S., so you won't find any of these Champagnes anywhere else in the U.S.! How's that for a Mother's Day gift?!
Need help selecting the perfect Blanc de Blancs Champagne? Check out Fat Cork's lovely selection of Blanc de Blancs here. And, if you're wanting to bone up on your Champagne knowledge to further impress Mom, be sure to watch the informative Champagne 101 video below.
Crème De Brie Mango-Cranberry Crostini
20 thin (1/4 inch) slices French baguette
2 tablespoons olive oil
1 package (5 oz.) Alouette Crème de Brie, Original
1/4 cup purchased mango chutney
2 tablespoons sweetened dried cranberries
1 tablespoon snipped fresh mint leaves, if desired
Click here for the full instructions!