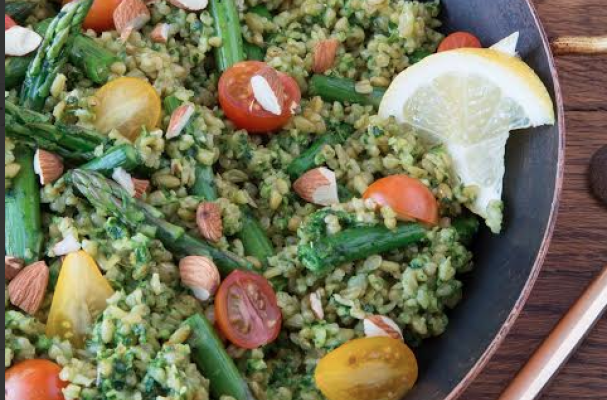 Almond and parsley pesto with asparagus and freekeh from What's Gaby Cooking is a dish that can be served for any meal of the day. With a couple of eggs, this pesto asparagus and freekah salad can turn into a brunch dish or with a salmon filet becomes a light lunch. Freekeh is an ancient grain that's rich in protein and fiber. You can purchase this grain at a health foods store or online.
Almond and Parsley Pesto with Asparagus and Freekeh
Courtesy of What's Gaby Cooking
Serves 4-6
Almond Parsley Pesto:
1/4 cup diced almonds
1/4 cup olive oil
1 garlic clove
1 cup packed fresh parsley leaves
1/4 cup freshly grated Pecorino Romano cheese
Kosher salt and freshly cracked black pepper to taste
Asparagus and Freekeh:
1 cup uncooked, cracked freekeh (yields approximately 3 cups cooked)
2 1/2 cups vegetable or chicken stock
1 tablespoon olive oil
2 garlic cloves, finely minced
1 bunch asparagus, cut into 1-inch pieces (roughly 1 dozen asparagus stems)
1 lemon, juiced
Kosher salt and freshly cracked black pepper to taste
1/2 cup halved cherry tomatoes
In a food processor or blender, combine diced almonds, olive oil and garlic. Pulse for 1 – 2 minutes until the mixture resembles almond butter.
Rinse parsley in cold water and pat dry. Don't worry about removing all the water, as you'll need some in the pesto. Add the parsley to the blender and blend for another two minutes until smooth and bright green. Add a few teaspoons of water if the pesto is thick. Add the freshly grated cheese and pulse for a few seconds to incorporate Season with salt and pepper to taste. Set aside.
In a large saucepan, combine freekeh and stock and cook according to the package directions. Once cooked, remove from the heat and let cool.
In a large skillet, heat olive oil over medium high heat. Add garlic and sauté for 30 seconds. Add asparagus and sauté for 3 – 4 minutes until just tender. Once cooked, remove from the heat and add the lemon juice. Season with salt and pepper to taste.
In a large bowl, toss together cooked freekeh, asparagus mixture and 1/2 cup of the pesto. Taste and adjust salt and pepper as needed. Add more pesto if desired, cherry tomatoes and serve warm or at room temperature. Garnish with chopped whole almonds.
Image Sources: