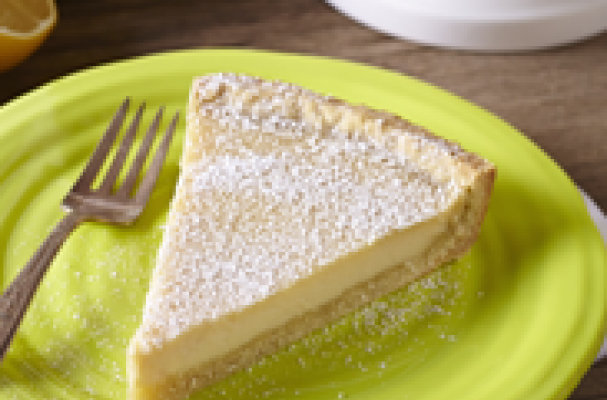 Lemon tofu tart with olive oil crust is a sweet way to kick off Memorial Day weekend. If you've never thought of using tofu in dessert, this is a great recipe to give it a try. The tofu not only adds a boost of protein to sweet dishes but also gives them a silken quality. Tofu especially works well in custards, mousses, and generally anything creamy. Surprise your barbecue guests with this delicious vegan tart.
Lemon Tofu Tart with Olive Oil Crust
Olive Crust:
1 ½ cups all purpose flour
½ cup confectioners' sugar
1/4 teaspoon kosher salt
1 vanilla bean, seeded
1/3 cup extra virgin olive oil
1/4 cup cold water
Zest from 1 lemon
Lemon Filling:
1 (14 oz.) package House Foods Premium or Organic Tofu Firm
1 ¼ cup sugar
1 ¼ cup freshly squeezed lemon juice
1/3 cup all purpose flour
3/4 tsp baking powder
1/2 tsp kosher salt
Confectioners' sugar, for garnish (optional)
Spray a 9 inch tart pan with removable bottom with non stick spray.
In a large bowl, whisk together the flour, sugar, salt, and vanilla bean seeds.
Drizzle in the olive oil and stir it in with a wooden spoon, then drizzle in the water, and stir in together until lumpy.
Use your hands and knead the dough until it just comes together as a ball in the bowl.
Dust your work surface lightly with flour and dust a rolling pin.
Roll out the dough 1 inch bigger than a 9- inch tart pan.
Move the dough to the tart pan and press evenly into the pan.
Prick the bottom with a fork and place in the fridge for 30 minutes to rest.
Heat oven to 350 degrees.
Place chilled tart shell on a rimmed baking sheet and place in the oven to bake for 20 minutes.
Meanwhile, add the tofu, sugar, lemon juice, flour, baking powder, and salt to the bowl of a food processor and blend until smooth.
Remove tart dough from oven and carefully pour the filling into the shell.
Place tart back into the oven and bake for 45 minutes, until just the center of the tart is still wiggly when gently shakened.
Remove from oven and let cool completely.
The filling will deflate slightly as it cools.
Sprinkle lightly with confectioners' sugar before serving, if desired.
Editorial disclosure: Foodista was not paid for this post
Image Sources: