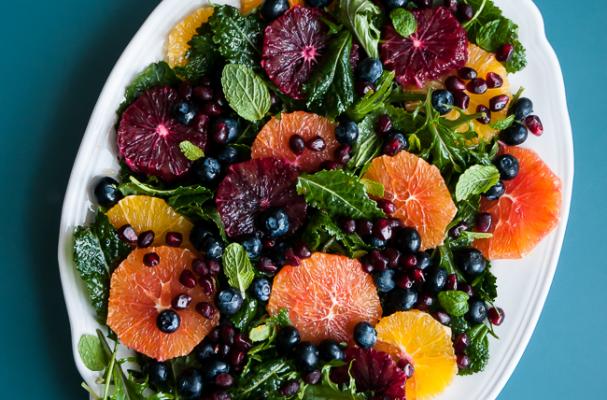 Fact: We could all use a little more greens in our diet. And adding some blueberries and other superfruits doesn't hurt either. One of the first rules to living a healthier life is to cook food you actually want to eat. There are so many delicious dishes that do the body good. These salad recipes are just the beginning of what is possible when you push yourself to create healthy meals at home.
Broccoli Blueberry Slaw
Recipe from The Roasted Root
Instead of cole slaw or potato salad, make this broccoli blueberry salad at your next cookout. This salad gets better the longer it sits so you can make it in advance and let it hang out in the fridge until you're ready to serve.
Power Greens Salad with Blueberries
Recipe from Kalyn's Kitchen
The sweet blueberries compliment the flavor of the bitter mixed greens. You can find pre-packaged salad mixes that contain a variety of greens including chard, kale, spinach, dandelion greens and more. To turn this salad into a complete meal, serve with grilled chicken,
Ancient Grain Blueberry Salad
Recipe from Eating Made Easy
This whole grains salad is the perfect dish to bring to picnics. Not only is it flavorful but it's also super healthy. You can use a mixture of whole grains or just stick with a single grain like frekkah, quinoa, or barley.
Kale Blueberry Salad
Recipe from Henry Happened
Blueberries are packed with antioxidants and when paired with kale and pomegranate seeds create a superfood salad. Tasty salads like this one make eating healthy easy.
Image Sources:
Categories: