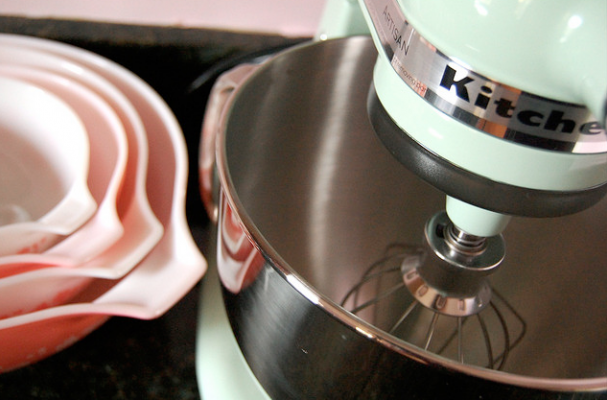 There are two types of kitchen tools that exist: those that actually make the cook's job easier and those that just take up space. In reality, a well stocked kitchen consists of a few good pots and pans, at least three knives, a couple wooden spoons, spatulas and whisks and a potato peeler.
If you are new to cooking, the myriad of kitchen gizmos and gadgets can be overwhelming. Especially since there seem to be one designed for just about every single task you can preform in the kitchen. My rule of thumb is if it can accomplish more than five things, then it's not worth the space. Furthermore, I would rather invest my money in a few good tools that will help me cook more efficiently and effectively.
Below are three kitchen electrics I can't live without. I use them at least once a day whether it's to whip up a quick cake, puree a soup, or chop vegetables. While on the pricer side (as far as gadgets go), it's well worth the extra cash. Cooking is faster, easier and more fun.
I can't say enough good things about a stand mixer. If you bake frequently, then this tool is a must-have in your kitchen. It can knead your bread dough, whip your egg whites and beat your cake batter. This kitchen appliance will last you years - I've had mine for over 10 and it's still going strong!
A blender is not just for whipping up a batch of margaritas. It can be used for so much more than that. It's great for pureeing soups, making morning smoothies, sauces and even pancake batter. Depending on the brand, a good blender can grind spices too.
The food processor as been the kitchen workhorse for decades. It can shred, slice and chop vegetables without breaking a sweat. It's also great for making dough that should be handled as little as humanly possible such as pie dough or biscuit dough.
Image Sources:
Categories: