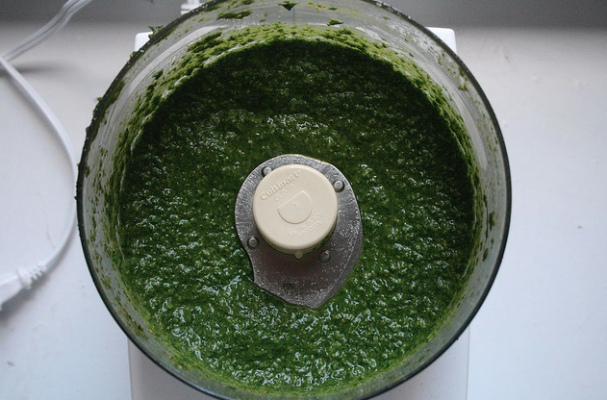 Summer is the perfect time of year to try your hand at making pesto for the first time. Tender green basil leaves blended with garlic, nutty parmesan cheese, buttery pine buts and fruity olive oil make magic together. This versatile Italian sauce can be used as a a marinade for vegetables, a spread for sandwiches, salad dressing and so much more.
Traditional pesto genovese is strictly made with just basil, garlic, pine nuts and parmesan cheese but you can easily substitute the basil for another herb like parsley or cilantro or leafy green vegetable such as kale, arugula and spinach. Other alterations include opting for walnuts or pecans instead of the pricier pine nuts or use a different kind of nutty Italian cheese. The possible pesto combinations are literally endless.
The classic preparation of pesto is with a mortar and pestle but these days a food processor or blender will do the trick. Homemade pesto can last up to several days in the fridge or months if frozen. When storing, place the pesto in the smallest container as possible to eliminate air pockets. This will help prevent browning as will spooning some olive oil over the top before sealing the jar.
Image Sources: