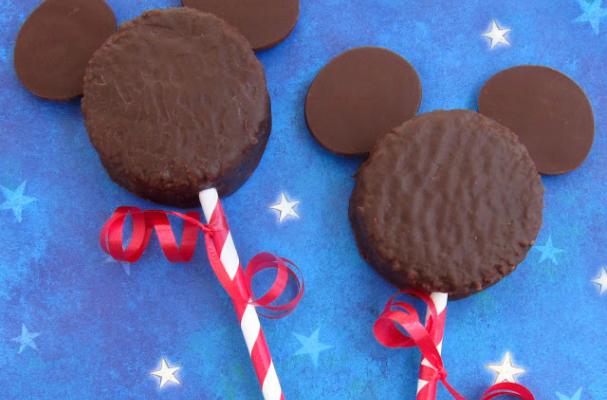 Disney holds a special place in our hearts because it's apart of our childhood and cherished memories. These Disney inspired sweet treats make us feel like kids again. Even though most of them are tailored to the younger generation, nothing beats the look on your child's face when they first see their favorite Disney character in dessert form. These creative confections are works of art that any child will absolutely love.
Lightning McQueen Cake
Recipe from How to Cook That
A 3D Lightning McQueen cake is guaranteed to make the birthday boy or girl's jaw drop. This detailed decorated cake takes time and patience but well worth the reaction. While this tutorial is focused on creating a Lightning McQueen cake, it can easily be converted into other Cars characters with a few minor adjustments.
Mickey Mouse Snack Cakes
Recipe from Hungry Happenings
These Mickey Mouse snack cakes are a quick and easy party favor. Store bought chocolate snack cakes are simply adorned with a set of dark chocolate ears to create the iconic Disney character. For Minnie Mouse fans, a red bow can be added with a touch of chocolate to help it stick.
Princess Cookies
Recipe from Sugar Swings
A simple gingerbread cookie cutter can be used to make your favorite Disney princesses. Whether you like Belle, Ariel, Snow White or Cinderella, you can make the character come to life with some royal icing, food coloring and a pastry bag. While this tutorial uses gingerbread dough feel free to substitute for sugar cookie dough.
Merida Doll Cake
Recipe from Good Food, Shared
You can transform any doll into a cake and this decorating tutorial shows you how using Merida, the main character in Brave, as the example. Essentially, the cake is built around the doll as part of the dress. This Merida doll cake is a guaranteed showstopper.
Cheshire Cat Cupcakes
Recipe from Project Foodie
Cheshire cat cupcakes add a whimsical feel to any party. The cat face are made out of fondant, a sculpting sugar paste, that can be purchased at a cake decorating store and most craft stores. Serve these fun cupcakes with some "Eat Me" cookies for an Alice in Wonderland themed party.
Image Sources: