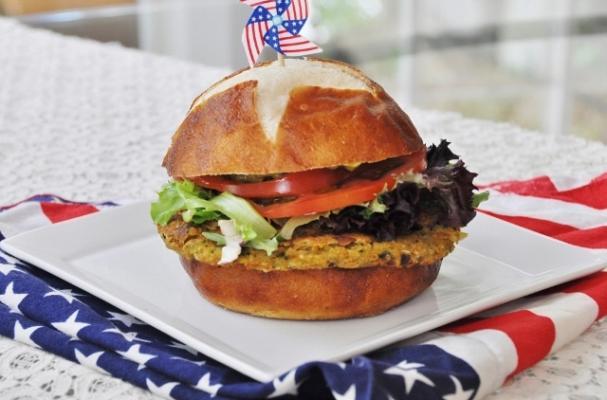 The summer is not over yet which means burgers are still a completely acceptable meal option. Carnivores might disagree but a good homemade veggie burger can be just as flavorful and satisfying as its meaty counterpoint. Veggie patties can be made from just about anything so long as there is a binding agent. Sometimes this is in the form of smashed beans, pureed sweet potato, or an egg and breadcrumbs. You can pile on the toppings and condiments just as you would with any other burger to create something wonderful and delicious.
Vegan Curried Sweet Potato Burger
Recipe from The Sweet Life
Vegans do need to give up this classic summertime meal, just tweak it a bit. These curried sweet potato burgers are served with a sweet tomato chutney and cilantro aioli.
Brown Rice and Mushroom Veggie Burger
Recipe from Better with Butter
These brown rice and mushroom patties are anything but bland, brown rice is mixed with umami packed crimini mushrooms, garlic, onion, and oatmeal for texture. They are topped with goat cheese and green onions and served in a whole wheat bun.
White Bean and Quinoa Burger
Recipe from The Kitchen Paper
White bean and quinoa burgers is packed with protein to help sustain you hours after you've enjoyed the meal. Don't be afraid to skip the ketchup with this one and opt for other condiments like a garlic aioli or Dijon mustard.
Chickpea Veggie Burger
Submitted to Foodista by Veganosity
Chickpeas are used in place other sources of protein across the world so it's no wonder they work well in a burger. These meatless patties are spiced with cumin and cayenne pepper to give them a kick of flavor.
Image Sources: