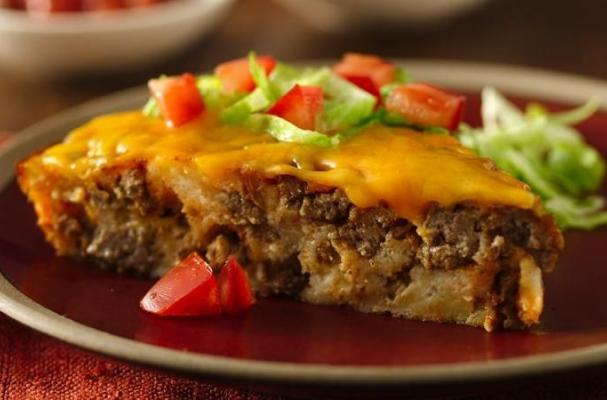 Gluten-free taco pie is a quick and easy dinner that's perfect for busy weeknights. Every cook, even the gluten-free ones, needs a little help from their pantry. Sometimes this is in the form of frozen vegetables, canned beans, and gluten-free baking mixes. In this recipe, ground beef (you can also use turkey) is cooked with green chilies and a taco seasoning before it's layered on top of gluten-free dough and topped with cheddar cheese. Serve this taco pie with your favorite toppings including salsa, shredded lettuce, tomato and guacamole.
Gluten-Free Taco Pie
Courtesy of Betty Crocker
1 lb lean (at least 80%) ground beef
1 medium onion, chopped (1/2 cup)
1 package (1 oz) gluten-free taco seasoning mix
1 can (4.5 oz) gluten-free chopped green chiles, drained
2 eggs
1 cup milk
1/2 cup Bisquick™ Gluten Free mix
3/4 cup shredded Monterey Jack or Cheddar cheese (3 oz)
3/4 cup chopped tomato
1 1/2 cups shredded lettuce, if desired
Salsa, if desired
Gluten-free sour cream, if desired
Heat oven to 400°F. Spray 9-inch glass pie plate with cooking spray. In 10-inch skillet, cook beef and onion over medium heat, stirring occasionally, until beef is brown; drain. Stir in seasoning mix. Spoon into pie plate. Top with chiles.
In small bowl, stir eggs, milk and Bisquick mix until blended. Pour into pie plate.
Bake about 25 minutes. Top with cheese and tomato; bake 2 to 3 minutes longer or until cheese is melted. Let stand 5 minutes before serving. Serve with lettuce, salsa and sour cream.
Image Sources: