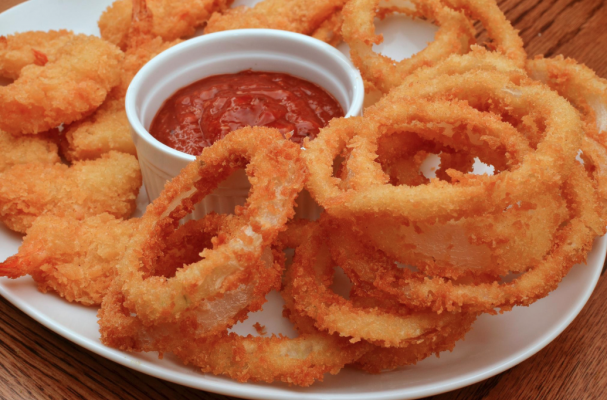 When you're at the diner, you usually have the choice of ordering fries or onion rings. While you love French fries, the golden brown deep fried circles are calling your name. Whether it's the irresistible crunch from the crust or that alluring onion smell, you know you just got to have them.
Homemade onion rings are less fussy than French fries and a special treat to serve with your favorite burger. To create an incredibly light yet crunchy onion ring, you'll need two ingredients - a starch and a carbonated liquid. The starch could be anything from rice flour, all purpose flour, tapioca starch, or cornstarch. If you choose all purpose flour, make sure to add a lighter starch, such as cornstarch, to help keep the batter light. As for the carbonated liquid, this can be in the form of a beer or club soda. The carbon dioxide aerates the batter creating a crispy and flavorful crust. A sweet onion varietal is best to make onion rings; I would choose either a Vidalia or Walla Walla.
Once you've mastered the onion ring, you can move on to shoestring onions or blooming onion.
Image Sources: