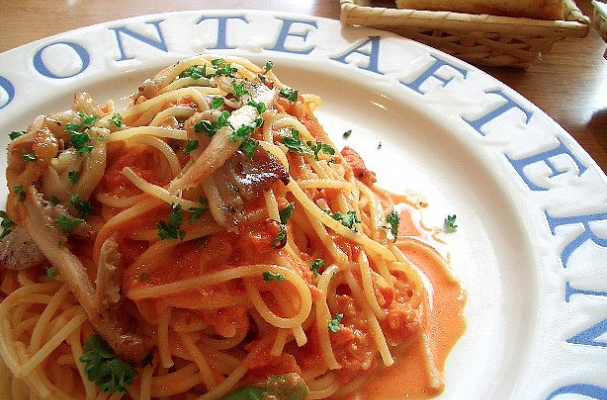 We are kind of obsessed with the one pot pasta method. It doesn't get any simpler than throwing all the ingredients in a pot and letting the stove do most of the work for you. It's akin to the slow cooker only that any one pot pasta meal can be on the dinner table in less than 30 minutes. This particular recipe is inspired by the last of summer's produce but you can make adjustments as needed based on what's currently in your fridge and available at the market. All this vegetarian pasta needs is a generous sprinkling of freshly grated parmesan cheese and a crusty piece of bread to soak up the wonderful tomato sauce.
Vegetarian One Pot Pasta
12 ounces whole wheat spaghetti
1/2 small eggplant, cubed
1 small zucchini, sliced
1 small summer squash, slices
1 medium sized heirloom tomato, roughly chopped
3 cloves garlic, finely minced
1 1/2 cups tomato sauce
2 cups vegetable stock (vegetable broth would also work)
2 tsp kosher salt + more for eggplant
1 tsp freshly ground black pepper
2 Tbsp olive oil
Fresh chopped basil and grated parmesan cheese for finishing
Peel and dice eggplant into small, bite-sized cubes. Place the eggplant in a colander in the sink and sprinkle generously with salt. This step helps to draw out the moisture and tame eggplant's natural bitterness. After 20 minutes rinse the eggplant under cold running water and pat dry with a towel. Set aside.
In a Dutch oven, heat the olive oil under medium high heat. Add the eggplant, zucchini, summer squash and minced garlic. Season with sea salt and pepper (you do not need to use the full amount recommended in the recipe if you have a more sensitive palette) and stir. Saute the vegetables for 3-5 minutes or until a golden brown and soft.
To the same pot, add the pasta, vegetable stock, and tomato sauce. Adjust the seasoning if needed at this point. Bring mixture to a boil, then cover and reduce heat to a simmer until the pasta is cooked to al dente, approximately 10-15 minutes, stirring the pot a couple of times so that the pasta doesn't stick to the pan. Once cooked, add the freshly chopped tomatoes, stir and taste to adjust seasonings on last time. Finish the pasta with grated parmesan cheese and chopped fresh basil
Image Sources: