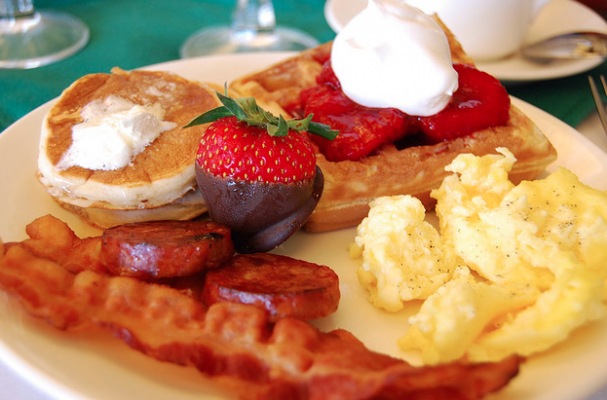 Conventional wisdom states that breakfast is the most important meal of the day and for good reason. Breakfast gives your body and brain the energy it needs to get you going in the morning. Eating a healthy breakfast regularly can help maintain your weight as well as keep your spirit up throughout the day.
Breakfast doesn't have to be a complicated meal, it can be as simple as cereal with milk, a fruit smoothie, instant oatmeal, or a quick omelet. On morning that you have a little more time (or energy), things like pancakes, bacon, or biscuits and gravy might grace the table. These foods are typical American breakfast fare but depending where you are in the world, the first meal of the day can be a croissant with coffee or a bowl of rice with fish. Urbanspoon has created a infographic that illustrates traditional breakfast foods from 12 different countries across the world, some of which you probably already known and others that you'll find surprising.
P.s. There is a recipe for a traditional English breakfast at the bottom!
Traditional English Breakfast
6 pork sausages (bangers)
4 mushrooms, wiped clean from dirt
2 small tomatoes, scored on top
8 oz smoked dry cured back bacon (also known as Irish bacon)
6 oz black pudding, sliced
1 can Heinz baked beans
2 tablespoons butter
6 eggs, cracked and whisked in a bowl
½ loaf thick-sliced bread, for toasting
salt and pepper to taste
Preheat the oven to 400 degrees Fahrenheit. Line a baking sheet with foil and line the bacon on the sheet. They can be close together but not overlapping. Bake the bacon for 15 to 20 minutes until crisp.
Heat a large cast iron pan over medium high heat and cook the sausages. You can also do this on a griddle or outdoor grill. Cook for about 10 minutes, turning the sausages once or twice. At the same time, heat another cast iron pan and cook the the mushrooms and tomatoes, scored-side up. Take out the sausages and add the black pudding, cook for 5 minutes.
Put the baked beans in a saucepan and warm gently for 2 to 3 minutes, stirring occasionally.
In a non-stick saucepan over a low heat melt the butter in the pan, add the eggs, season to taste with salt and pepper and stir gently until just scrambled. Remove from the heat.
Put the bread in the toaster, and arrange the sausages, mushrooms and tomatoes with the bacon, black pudding and beans onto a plate. Butter the toast and top it with scrambled egg.
Image Sources: