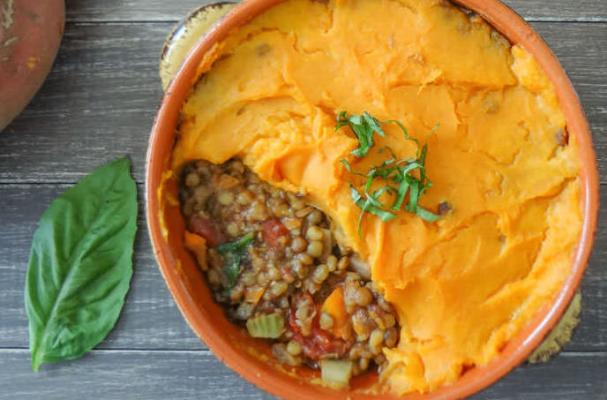 Fall brings cooler weather, pumpkins, and comfort food. These delicious vegetarian recipes are made from scratch, soul feeding recipes that will warm the body and your heart. Whether your craving a bowl of chili, a buttery pot pie or a hearty pasta bake - we've got you covered. These wonderful and comforting meals can be served any night of the week.
Baked Ziti with Ricotta
Recipe from Yummy Addiction
Pasta and cheese sum up comfort in my book. This recipe is as easy as it is delicious. Ziti pasta is combined with a creamy tomato sauce and dotted with spoonfuls of ricotta and mozzarella cheese before going into the oven. This baked ziti will be an instant hit with your family.
Potato and Corn Chowder
Photo Credit: Whitney in Chicago
This vegetarian recipe for slow cooker potato and corn chowder is a particular favorite in my house. Chopped red potatoes and corn are thrown into the crock pot with some vegetable stock, herbs and aromatics. The soup bubbles low and slow for many hours until the potatoes and onions become tender and the flavors meld together.
Curried Chickpea Pot Pie
Recipe from Amuse Your Bouche
Curried chickpea pot pie is a new take on this classic comfort food. While this meal may seem complicated and time consuming, it's the exact opposite. Using some store bought ingredients like canned chickpeas, frozen vegetables and puff pastry, this dish comes together in a flash. The pinch of curry powder adds warmth to the dish without overpowering the pot pie.
Southwest Vegetarian Chili
Recipe from The Roasted Root
Southwest vegetarian chili is loaded with flavor and healthy veggies including bell pepper, corn, sweet potato and more. A variety of beans add protein and heartiness to the chili. The secret ingredient to this dish is cocoa powder which creates a rich, deeply flavored broth with just a hint of chocolate.
Vegan Shepherd's Pie
Recipe from One Ingredient Chef
Vegan shepherd's pie is a hearty and wholesome meal that's perfect for fall. A rich and delicious lentil stew is studded with chopped carrots, celery, onion and tomatoes. Traditionally, shepherd's pie is topped with mashed potatoes but this version opts for whipped sweet potatoes instead. To get the iconic golden brown crust, run a fork through the potatoes (this will create small peaks and valleys) and stick it under the broiler for a couple of minutes.
Image Sources: