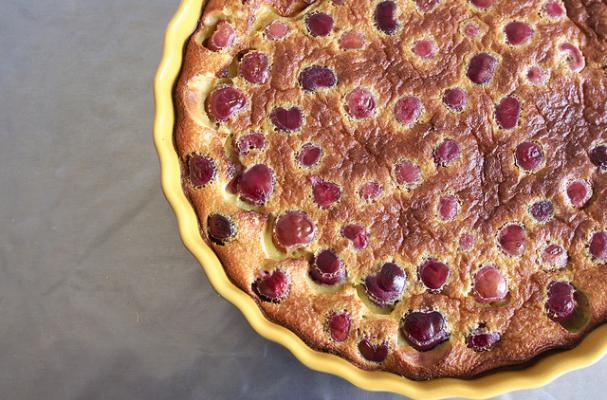 Clafoutis is an easy to make baked dessert originating from the Limousin region of France. This flan-like dessert is most commonly made with black cherries, but is delicious with just about any type of fruit, fresh or preserved (in which case it would be referred to as flaugnarde). If you can make a pancake batter, you can make clafoutis! It puffs up in its buttery nest as it bakes, nestling in and around the fruit that is dropped over the top. It's a dense and fruity treat that has just the right of sweetness and is ready in under an hour. Tre magnifique!
Basic Clafoutis Batter Recipe
Serves 4-6
1 cup whole milk
3 eggs
1/2 cup sugar
1 teaspoon vanilla extract
2 tablespoons butter, melted, plus more for buttering baking dish
1/2 cup all-purpose flour
2 cups of fruit
Powdered sugar for dusting (optional)
Step 1
Preheat oven to 325° F. In a large bowl, combine the milk, eggs, sugar, vanilla, and 2 tablespoons butter and sugar. Whisk until the sugar is dissolved, then add the flour and continue whisking until smooth and free of lumps.
Step 2
Butter a baking dish or pie pan and pour in the batter.
Step 3
Top with your favorite fruit and bake until the clafoutis is nicely puffy and golden; about 35–40 minutes.
To Serve
It's best eaten warm, so allow the clafoutis to cool a bit before serving. Dust with powdered sugar (optional).
Fruit variations:
Cherries
Peaches
Plums
Apricots
Strawberries
Raspberries
Blueberries
Blackberries
Apples
Pears
Rhubarb
Image Sources: