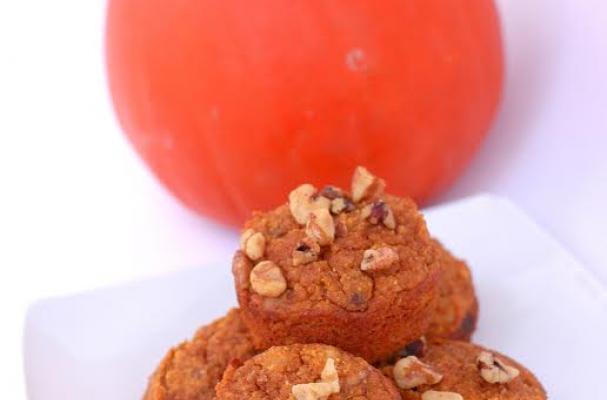 Now that we are in pumpkin spice season, it's time to enjoy that warm, comforting taste. We love muffins and pumpkin spice is the perfect flavor for them. If you are trying to avoid eating wheat and other grains, you might have a hard time finding recipes that avoid grains and still taste great. That doesn't mean you have to do without your favorite treats during the holidays. Just make them a different way. Dr. Davis, author of "Wheat Belly Total Health," (www.wheatbellyblog.com), shares some grain free alternatives to the standard holiday baking choices. According to Davis, the carbs in the traditional cool weather baking can have an effect on our energy level.
"They make us tired and sluggish when we especially need energy as we prepare for all the fun stuff and preparation that lead up to Thanksgiving, Christmas and Hannukah, and they cause us to gain weight, which we immediately pledge to shed come New Year's."
Pumpkin Spice Muffins (makes 12):
2 cups ground almonds
1 cup chopped walnuts
1/4 cup ground golden flaxseed
Sweetener such as Truvia or stevia extract equivalent to 3/4 cup sucrose
2 teaspoons ground cinnamon
1 teaspoon ground allspice
1 teaspoon grated nutmeg
1 teaspoon baking powder
Dash of fine sea salt
1 can (15 ounces) unsweetened pumpkin puree
1/2 cup sour cream or canned coconut milk
2 large eggs
1/4 cup walnut oil
melted coconut oil or extra-light olive oil.
Preheat the oven to 325 degrees F. Grease a 12-cup muffin tin. Stir together the almond meal, walnuts, flaxseed, sweetener, cinnamon, allspice, nutmeg, baking powder, and salt in a large bowl. Stir together the pumpkin, sour cream or coconut milk, eggs, and oil in another large bowl. Stir the pumpkin mixture into the almond meal mixture and mix thoroughly. Spoon the batter into the muffin cups, filling them about half full. Bake until a toothpick inserted in a muffin comes out dry, about 45 minutes. Cool the muffins in the pans 10 to 15 minutes, then turn out onto a rack to cool completely.
Image Sources:
Categories: