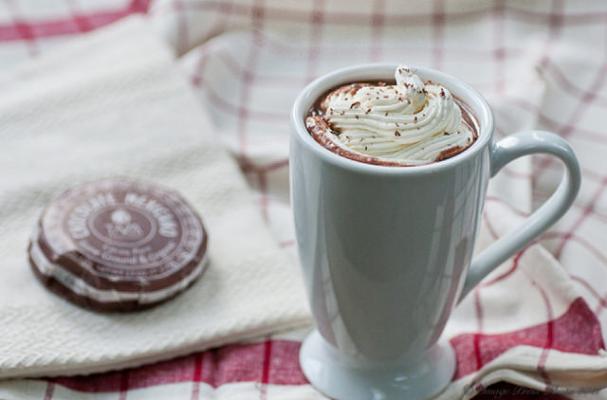 This Spiced Mexican Hot Chocolate recipe, created by food and travel writer Gwen Pratesi of Bunky Cooks, is wonderfully rich and creamy. More like a dessert cocktail, it combines rustic stone ground organic chocolate of 70% cacao and raw sugar, with the subtle sweetness and spice of raw honey crème whipped with cinnamon, clove and nutmeg. Make it without alcohol for the kids or spike it with a shot of fine aged mezcal or rum for the adults! Gwen also recommends freshly whipped cream and shaved chocolate for a festive frothy finish.
Spiced Mexican Hot Chocolate
Recipe and photo courtesy of Gwen and Roger Pratesi
Bunky Cooks, 2012 James Beard-nominated culinary-travel blog
2 cups milk
2 ounces best quality Mexican stone ground organic chocolate (Gwen likes Taza), chopped into small pieces
Pinch of salt
1 generous tablespoon Spiced Honey Crème*
Optional: 1.5 ounce shot of fine aged mezcal or rum
Garnish: fresh whipped cream, shaved chocolate
In a heavy medium saucepan, combine milk, chocolate, pinch of salt and honey crème. Heat, stirring frequently over medium-low heat with a whisk, until chocolate has melted, honey crème dissolves and the milk is very hot, about 10 minutes. Pour hot chocolate into a tall mug or 2 smaller cups. If you like, add mezcal or rum spirit. Top with fresh whipped cream and shaved chocolate. Serve immediately.
*Spiced Honey Crème is produced by Honey Ridge Farms, a family-owned company with five generations of beekeeping experience. The honey is ourced from family and a small circle of Pacific Northwest beekeepers. Only superior local USA honey is used and can be traced back to its origin.