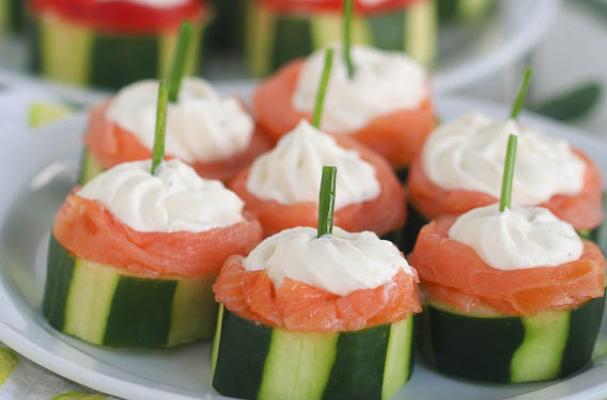 New Year's Eve is characterized by noise makers, champagne, and elegant finger food. Feast your eyes (and stomachs) on these easy and delicious canape recipes. These canapes will add elegance to the appetizer table without the stress. Once you see how incredibly simple these canapes are to make, you will include them on the menu for every party.
Mushroom and Polenta Canapes
Recipe from The Novice Gardener
These mushroom and polenta canapes are a highly addictive appetizer. Crisp mini polenta cakes are served with mushroom ragout and caramelized onions. A sprinkling of finely chopped Italian parsley adds a fresh and light herbaceous flavor.
Prosciutto and Blue Cheese Toasts
Recipe from Not Enough Cinnamon
Prosciutto and blue cheese toasts is the perfect balance of sweet, salty and savory. This 4 ingredient appetizer spreads quince paste on raisin toasts are tops it with prosciutto and blue cheese. You can use other cured meat like serrano ham for this quick and easy canape as well.
Taco Potato Crisps
Recipe from Amuse Your Bouche
Taco potato crisps are a vegan canapes that would even please the pickiest carnivore. Chopped and roasted walnuts are seasoned with warm spices including chili powder, ground cumin and smoked paprika. They are paired with vegan sour cream, salsa and scallions.
Asiago BLT
Recipe from Krafted Koch
Everyone's fabric sandwich has become miniaturized into a two bite snack. A crisp asiago cracker is topped with a creamy bacon parmesan made with cream cheese. The canapes are garnished with a juicy cherry tomato and a salty bit of bacon.
Cucumber Salmon Canapes
Recipe from Immaculate Bites
Cucumber salmon canapes are a classic. This no-cook appetizer tops slices of crisp cucumber with smoked salmon and whipped cream cheese. If you want this appetizer to be over the top, you can garnish these canapes with a spoonful of caviar.
Image Sources: