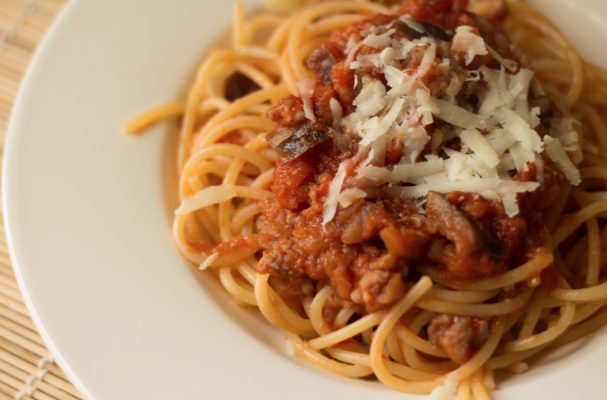 Spaghetti Sauce
Serves 4 to 6
Ingredients:
1 tablespoon olive oil
1 small yellow onion, finely diced
3 cloves garlic, finely minced
1 pound ground beef
1 (28-ounce) can whole peeled tomatoes
1 bay leaf
1/4 teaspoon salt
1/4 teaspoon freshly ground black pepper
pinch of sugar
1 sprig Fresh thyme
1 sprig fresh oregano
1/4 cup basil leaves, chiffonaded
Parmesan cheese, to garnish, optional
1 pound box spaghetti
Directions:
Step 1: In a large pot or Dutch oven, heat olive oil over medium high heat. Add the onions and garlic and saute them until fragrant and onions appear translucent, about 5 to 7 minutes.
Step 2: Add the ground beef and cook the meat until browned and cooked through, about 5 to 7 minutes.
Step 3: Crush the tomatoes with their juices and add to the pan. You can smash them against the sides of the pan with your spatula or cut them using kitchen shears. Season the mixture with salt and pepper and add pinch of sugar.
Step 4: Add the bay leaf, fresh thyme, and fresh oregano. Bring the sauce to a simmer, then lower the heat to medium-low and cook for 20 minutes. The sauce should be have reduced and thickened.
Step 5: Meanwhile, bring a large pot of water to a boil and season generously with salt. Cook the spaghetti according to package directions.
Step 6: Remove the bay leaf and any herb stems. Add the basil and mix until just combined. Taste and adjust seasoning as necessary. Toss the spaghetti with the sauce until the pasta has been thoroughly coated in the sauce. Serve with a sprinkle of parmesan cheese.
*Note: This sauce can be frozen for up to 3 months.
Image Sources:
Categories: