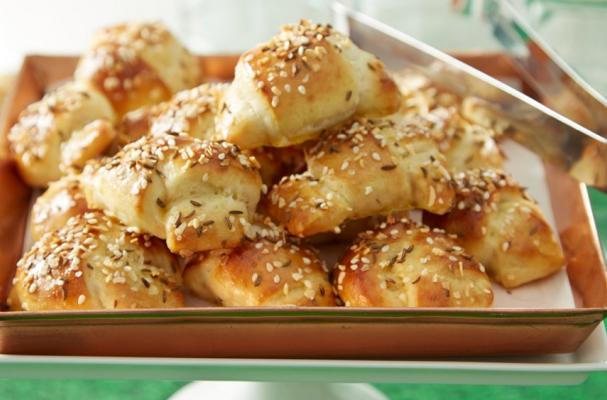 When I smell freshly baked pretzels while meandering through the mall, I often feel like a cartoon character who has been entranced and I am swiftly guided to the lovely smell. Before I can stop myself, I am standing in line waiting to buy the salted chewy bread morsels. I still treat myself every once in a while to a mall pretzel but have since learned to bake my own version at home. While there is a bit more labor involved, the pay-off is well worth the effort. Not only can I control my pretzel toppings but I also gain a sense of accomplishment that just can't be had at a pretzel kiosk. These pretzel bites are topped with more than just salt, other seeds and flavorings that are akin to an everything bagel are scattered over the surface like confetti. You can serve these knots with mustard or cream cheese but I prefer a beer cheese sauce myself. You can get the recipe here. So if you are feeling captivated by fresh pretzels (as I did), try this recipe below and let us know what you think in the comment section below.
Everything Pretzel Knots
Courtesy of Pillsbury
Ingredients:
1 can Pillsbury™ refrigerated classic pizza crust
2 tablespoons baking soda
1 cup water
2 1/4 teaspoons caraway seed
2 1/4 teaspoons sesame seed
2 1/4 teaspoons dried diced onion
1/2 teaspoon coarse (kosher or sea) salt
1 egg, beaten
Directions:
Step 1: Heat oven to 400°F. Spray cookie sheet with cooking spray. Unroll dough; press to 14x10-inch rectangle. Cut lengthwise in half. Cut into 1-inch strips, making 28 strips. Twist each strip into a knot.
Step 2: In a microwave safe bowl, stir baking soda and water. Microwave uncovered on High 1 to 2 minutes or until hot. Brush knots with baking soda mixture. Let stand 5 minutes.
Step 3: In small bowl, mix seeds, onion and salt. Brush knots with egg; sprinkle with seed mixture. Place knots 1/2 inch apart on cookie sheet.
Step 4: Bake 7 to 9 minutes or deep golden brown. Cool 2 minutes. Serve pretzel knots warm.
Editorial Disclosure: Foodista was not paid for this post
Image Sources: