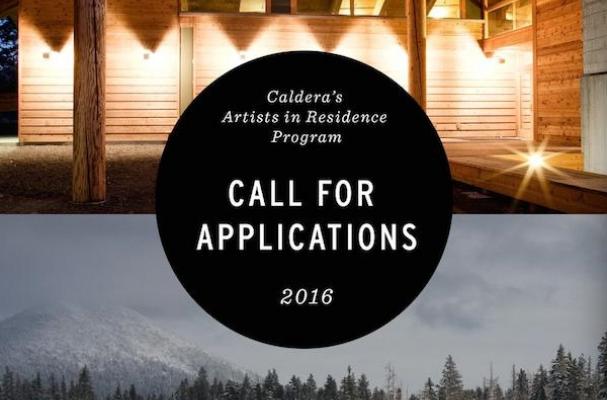 Caldera Arts Center is pleased to announce a call for applications for its 2016 Artist in Residence program. Every winter from January through March, creative individuals and collaborative groups from all over the world are welcomed to Caldera Arts Center in the foothills of the Cascade Mountains near Sisters, Oregon for one-month long residencies. New this year, positions for Culinary Artists!
Caldera facilities are equipped with a well-appointed catering kitchen that is now available to Culinary artists. The kitchen will be culinary artists studio. Culinary artists will be required to prepare one dinner a week while in residence.
To learn more about Caldera's residency program go to: http://calderaarts.org/caldera/arts-in-residence/
Successful applicants stay for one-month in Caldera's A-frame cabins, designed to inspire and nurture. Equipped with simple kitchens, private bathrooms, wood stoves and plenty of space for creative work, the cabins lie along Link Creek. Three visual art studios, a large catering kitchen and a beautifully designed performance space are also available. Surrounding Caldera are miles of hiking trails as well as a cerulean blue, 350-foot-deep lake, aptly named Blue Lake, a geological caldera and the third deepest lake in Oregon. Along with spending time developing individual works, AiR have opportunities to share their skills and knowledge at workshops and presentations to Caldera middle and high school students. They also present their work to the public in a free Open Studios series held the last Saturday of January, February and March.
How To Apply:
To apply for a residency at Caldera, applicants must submit a formal application, along with a project description, work samples and the application fee.
The application deadline is June 15, 2015.
To apply go to: http://www.calderaarts.org/caldera/arts-in-residence/application/
All applications are reviewed by an admissions panel made up of professionals in the various disciplines. Awards will be announced in early September.
About Caldera Arts Center:
Established in 1996 by Dan Wieden, co-founder of the Portland, Oregon-based international ad agency Wieden+Kennedy, Caldera is a nonprofit arts organization that supports children with limited opportunities through long-term mentoring and arts learning, as well as provides fully subsidized residencies to professional artists. Caldera is a catalyst for the transformation of underserved youth through innovative year-round art and environmental programs.
Categories: