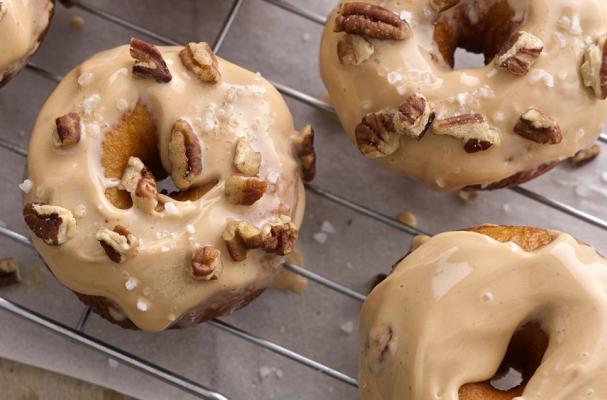 Salted caramel doughnuts have a special place in my heart. There is nothing like a freshly fried buttermilk doughnut paired with buttery caramel icing and fine crystals of sea salt sprinkled over top. Chopped pecans add a toasted flavor and an irresistible crunch. If you really dig the sweet and salty combo, feel free to add some chopped bacon on top.
Salted Caramel Doughnuts
Courtesy from Pillsbury
Ingredients:
2 cups Crisco® Pure Canola Oil
1/2 cup Pillsbury™ Creamy Supreme™ Classic White Frosting
1/4 cup hot caramel flavored topping
1 can Pillsbury™ Grands!™ Jr. Golden Layers® refrigerated buttermilk biscuits
1/4 cup chopped pecans
1/2 teaspoon coarse sea salt
Directions:
Step 1: In 3-quart heavy saucepan or deep fryer, heat oil over medium heat to 375°F.
Step 2: Meanwhile, in small bowl, mix frosting and caramel topping; set aside.
Step 3: Separate dough into 10 biscuits. Using your finger, form a hole in center of each biscuit to resemble a doughnut.
Step 4: Place paper towels under cooling rack. Carefully place 3 or 4 doughnuts in hot oil. Cook 1 to 1 1/2 minutes or until golden brown. Gently turn with tongs; cook 1 to 1 1/2 minutes or until golden brown. Place on cooling rack; cool 2 to 3 minutes.
Step 5: Repeat with remaining biscuits. Spread about 1 tablespoon frosting onto each doughnut. Sprinkle with chopped nuts and salt.
Editorial Disclosure: Foodista was not paid for this post.
Image Sources: