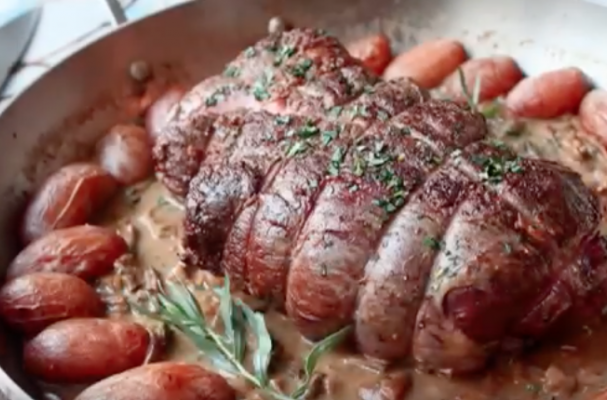 Ring in 2016 right with a luxurious roasted beef tenderloin. This buttery cut of meat is the ultimate splurge and well worth every penny if you cook it right. Many people are intimidated by the beef tenderloin (mostly because of its price tag) but if you give this cut a proper chance, you will not be disappointed. The number one mistake cooks make is overcooking the beef. If you fall into the "well-done" category, this recipe may not be the best for you. The goal is to have rosy-hued meat throughout the interior of the roast and a perfectly seared crust. This means first preparing the meat of the stove top and then transferring it to a low oven to continue cooking. The best and most efficient way to ensure the meat is properly cooked is to invest in a meat thermometer. The shallot tarragon pan sauce is that extra special touch that brings this wonderful dish together. Serve this meal with a few simple sides and let this beauty shine at the table.
Roasted Beef Tenderloin with Porcini Shallot Tarragon Pan Sauce
Recipe from Food Wishes
Ingredients:
Serves 6
2 1/2 to 3 lb beef tenderloin roast
kosher salt and freshly ground black pepper to taste
1 tbsp vegetable oil
2 tbsp unsalted butter, divided
1/2 cup sliced shallots
1/4 cup tarragon white wine vinegar, or plain white wine vinegar
1 cup veal stock or chicken broth
1/4 cup cream
1/3 cup dried porcini mushrooms, soaked and diced
1/2 cup liquid from porcini mushrooms, more if needed
1 tbsp minced fresh tarragon
For full recipe instructions, watch the video below.
Image Sources: