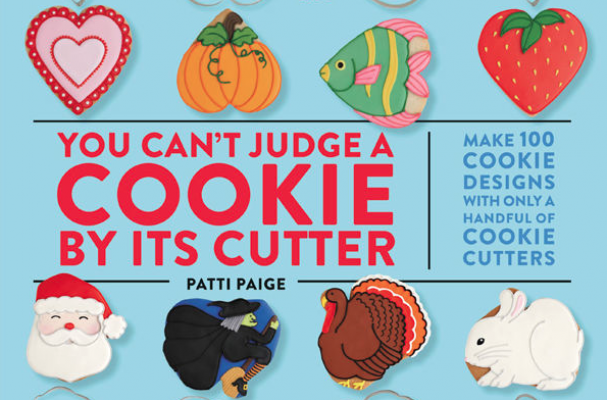 I am continuously fascinated by the innumerable ways people transform food into a piece of art. Whether it is a platter of fruit, a wedding cake or a tray of cookies, the talent is undeniable. When I stumbled upon Patti Paige's book, You Can't Judge a Cookie by its Cutter, I knew immediately that I had to have it. Paige takes 25 everyday cookie cutter and creates four unique shapes with each one.
According to the cookbook's introduction, the idea for this all started as a game. Friends, family and clients would wonder into her studio and stare at a wall mounted with various cookie cutters of all shapes and sizes. They would venture a guess as to what the shape represented. One example she shares is of a wedding cake. Depending on the angle, this typical cutter can be "...a stack of suitcases, a typewriter on a desk, and a pair of witch's shoes."
Now, if you are like me and have minimal cookie decorating experience, you will find this book to be extremely useful. It is a great resource to fuel culinary creativity while also keeping the instructions simple so that newbies (like myself) do not get overwhelmed. Before even embarking on the cookie decorating portion of the book, there is a laundry list of baking essentials and decorating supplies that will make the task that much easier. Most of us already have a majority of the items in our kitchen but I find having a checklist is handy. Also, Paige outlines helpful tips that ensure your cookie decorating success.
If you are ready to step up your cookies decorating game, then this would be my pick. Check out the video below to see a few of the cookie decorating ideas shared in this book.
Image Sources: