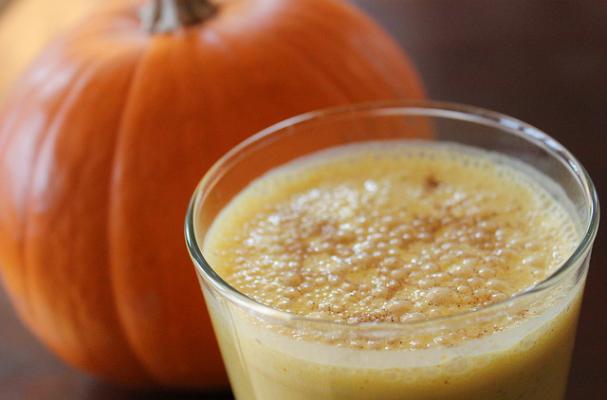 Move over fruit, pumpkin is now joining the smoothie fun! I never thought to use pumpkin puree in my morning smoothie, but I recently discovered a delicious and easy recipe that I now enjoy every morning (and so does our 5-year-old daughter!). It's so good we sometimes enjoy it as a healthy, guilt-free dessert. It's like pumpkin pie in a glass.
This recipe is adapted slightly from one found in The SuperFoodsRx Diet: Lose Weight with the Power of SuperNutrients by Drs. Wendy Bazilian and Steven Pratt. The doctors list pumpkin as one of their "14 original superfoods" as these foods (blueberries, beans, salmon, soy, tomatoes, and walnuts are other examples) are loaded with nutrients such as alpha- and beta-carotenes, fiber, folic acid, lycopene, omega-3 fatty acids, selenium, resveratrol, and vitamins C, D, and E.
Not only does this healthy smoothie contain one superfood, almost every ingredient is a superfood. Soy, yogurt, honey, flax and cinnamon are all considered superfoods (and spices) by Drs. Bazilian and Pratt (get the book here to learn more). So drink up for super health!
Pumpkin Smoothie
Adapted from The SuperFoodsRx Diet by Wendy Bazilian and Steven Pratt
Makes one 1.5-cup smoothie
3/4 cup unsweetened soy milk
1/2 cup fresh or canned pumpkin puree
1/4 cup non-fat plain Greek yogurt (the book's recipe calls for 1/4 cup of non-fat yogurt cheese, which is made by simply straining non-fat yogurt until it has thickened, about 4 hours or overnight)
2 tablespoons wheat germ or 1 tablespoon ground flaxseed
1 1/2 teaspoons honey
1/2 teaspoon pumpkin spice
1/8 teaspoon ground cinnamon
2-4 ice cubes
Place all ingredients in a blender and blend until smooth.
Supersize your superfood:
To make a big batch for the family or to keep in the refrigerator for the next few breakfasts or snacks, here's the biggie recipe:
3 cups soy milk
1 15-ounce can pumpkin puree
1 cup nonfat plain Greek yogurt
8 tablespoons wheat germ or 4 tablespoons ground flaxseed
Honey or agave to taste
2 teaspoons pumpkin spice
1/2 teaspoon ground cinnamon
8+ ice cubes