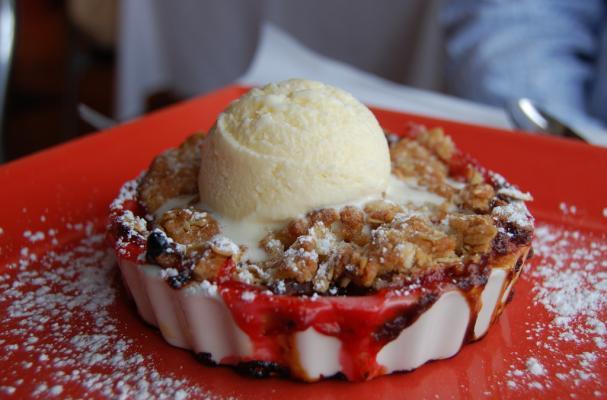 Rhubarb is an old fashioned fruit that is either well loved, or unknown. One bite of this tart, crispy treat and you will be hooked. Rhubarb grows in stalks, and over the years, it grows larger and larger until you divide it into separate clumps and you can then replant to double the harvest.
When growing rhubarb, you buy roots only. Don't allow them to dry out, so buy them and plant them as soon as you can. Rhubarb likes well composted ground and full sun. Keep your rhubarb patch from drying out. The most efficient way to do this is with a thick layer of mulch. Once the rhubarb starts to grow, mulch it well and keep it that way all season. During the fall, after the plant dies back, gently smooth mulch over the roots.
Slice and freeze it to use interchangeably with fresh all winter.
This recipe for rhubarb crisp is perfectly balanced between and tastes wonderful both at room temperature and hot. We love it with homemade ice cream!
5 cups fresh or frozen rhubarb
3/4 cup granulated sugar
1/2 cup regular rolled oats
1/2 cup packed brown sugar
1/4 cup plus 3 tablespoons all-purpose flour
1/4 teaspoon ground nutmeg, ginger or cinnamon
1/4 cup butter or margarine
1/4 cup chopped nuts or coconut
Preparation
1 Thaw rhubarb if frozen, but do not drain. Place fruit in a 2-quart square baking dish and stir in the granulated sugar
2 In a medium bowl, combine the oats, brown sugar, flour, and spice. Cut in butter or margarine until mixture resembles coarse crumbs. Sprinkle over fruit.
Image Sources: